Memorial Day Recipes from BBQ Pitmaster Myron Mixon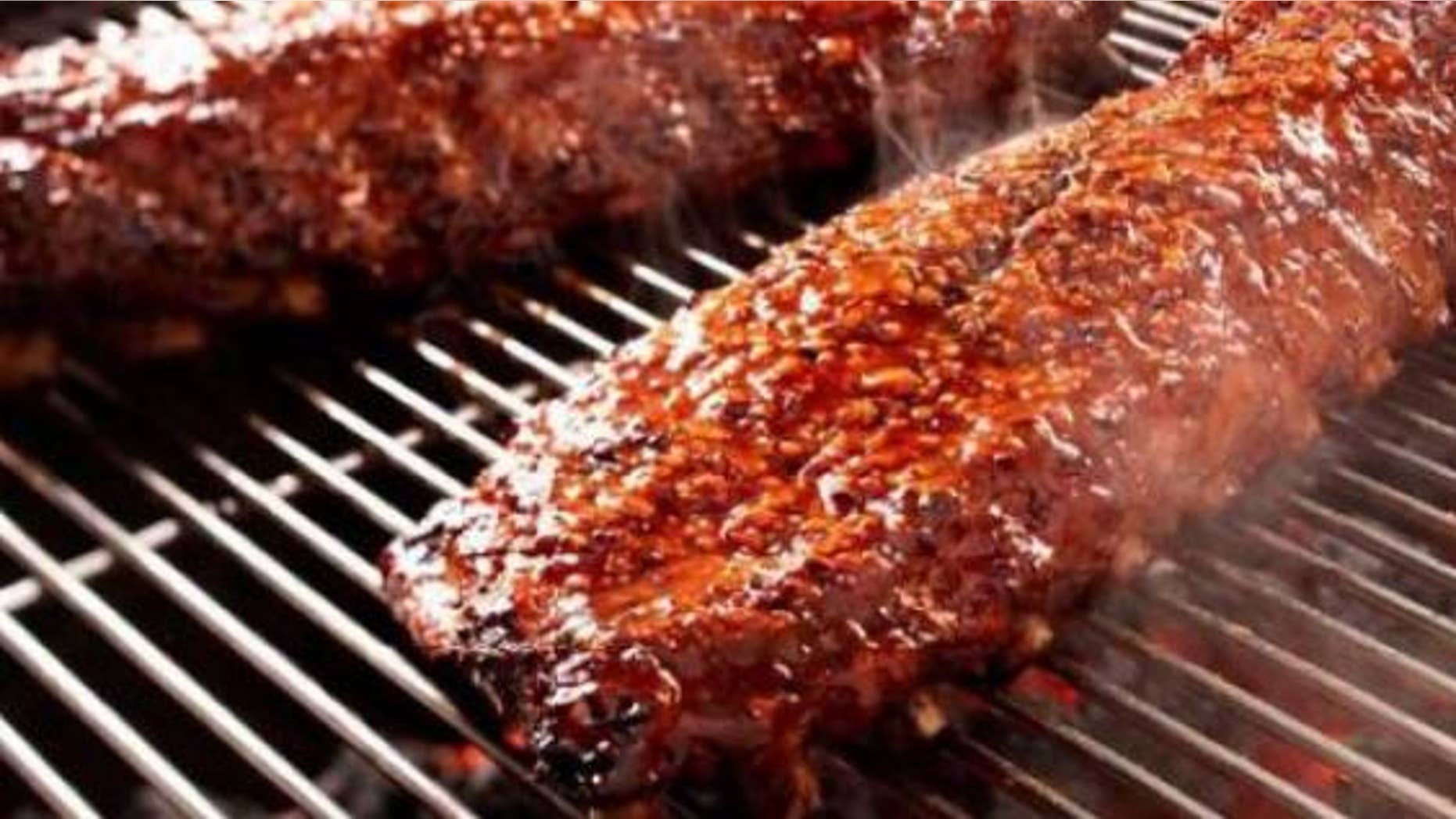 Visit myronmixon.com for more 
PITMASTER CHICKEN WINGS
Ingredients:
12 chicken wings
2 c. distilled white vinegar
Kosher salt and freshly ground black pepper, to taste
Juice of 1/2 lemon
Vinegar-based barbecue sauce
Instructions:
Rinse the wings thoroughly in cold water and pat them dry. Using a spray bottle, spritz the wings thoroughly with white vinegar. If you don't have a spray bottle, pour vinegar into a bottle and dip wings in. Season them liberally all over on both sides with salt and pepper.
Heat a charcoal grill or gas grill set up for indirect heat to 350°F. Place chicken wings on the grate over the coals in the smoker or on the opposite side of the fire in a gas grill. Take care not to overlap them.
Combine 1 cup of white vinegar, lemon juice, salt pepper in a spray bottle, or in a small bowl.
After approximately 15 minutes, flip the wings, then spritz (or brush if not using a spray bottle) with vinegar-lemon mixture. After another 15 minutes, spritz again and check for doneness. Take the largest wing and pull the "drummie" from the flat. If it pulls easily, they're done. (Alternatively: When the drummies reach an internal temperature of 165°F / 75°C on a meat probe, they're done.)
Transfer the wings to a wooden cutting board or platter, cover them loosely with foil, and let them rest for 15 minutes. Serve them
with some barbecue sauce on the side, if you like.
BABY BACK MAC AND CHEESE
Serves 4 for a main course or 8 for a side dish
Ingredients:
4 tbsp. unsalted butter, softened
Salt
1 lb. elbow macaroni
2 tbsp. all-purpose flour
3 c. milk
2½ c. shredded sharp cheddar cheese
Freshly ground black pepper
1 lb. leftover baby back rib meat – or leftover pulled pork, brisket, or pulled chicken
Instructions:
Generously butter a 13x9" baking pan on the bottom and sides with 2 tablespoons of the butter.
Bring a large pot of salted water to a boil over high heat. Add the macaroni and cook to al dente according to the package directions.
Once you drop the pasta into the water, melt the remaining 2 tablespoons butter in a medium saucepan over medium-high heat. Sprinkle the flour over the melted butter and cook, stirring, for about 1 minute, until the butter and flour form a paste that is beginning to slightly brown. Slowly whisk in the milk and bring the mixture up to a bubble to thicken. Remove the pot from the heat, whisk in 2 cups of the shredded cheese, and season with salt and pepper.
Preheat the broiler.
Drain the macaroni and return it to the pot it was cooked in. Add the cheese sauce and stir in the leftover rib meat. Pour the baby back mac into the prepared baking pan and scatter the top with the remaining ½ cup cheese. Put it in the broiler and broil until the cheese is golden brown on top, 3 to 4 minutes. Remove from the broiler and let stand, covered with foil, for 15 minutes before serving.
 
BARBECUE CHICKEN CAKES
Makes 8 chicken cakes
Ingredients:
½ c. finely crushed Ritz crackers
1 large egg
2 tbsp. milk
2 tbsp. grated Parmesan cheese
½ tsp. garlic salt
2 c. finely chopped leftover barbecue chicken
¼ c. vegetable oil
Only Slaw (recipe below)
Only Sauce (recipe below)
Instructions:
In a medium bowl, combine the crackers, egg, milk, cheese, and garlic salt. Stir in the leftover barbecue chicken.
Shape the chicken mixture into eight 3" cakes using about ¼ cup for each.
Heat the vegetable oil in a 12" nonstick skillet over medium-high heat. Fry the cakes for 4 to 5 minutes, turning once, until gold brown. Remove from the skillet and drain on paper towels.
Serve the cakes immediately topped with slaw and a side of sauce.
 
ONLY SLAW
Serves 12
Ingredients:
2 medium heads green cabbage, coarsely chopped into thin strands
2 Vidalia onions, diced
2 ripe tomatoes, diced
2 c. mayonnaise
Kosher salt
Freshly ground black pepper
Instructions:
In a large bowl, combine all of the ingredients. Toss thoroughly. Serve immediately.
ONLY SAUCE
Makes about 3 cups
Ingredients:
2 tbsp. onion powder
2 tbsp. garlic powder
12 oz. tomato paste
2 tbsp. paprika
⅔ c. cider vinegar
2 tbsp. Worcestershire sauce
¼ c. packed dark brown sugar
2 tbsp. honey
2 tbsp. maple syrup
2 tbsp. kosher salt
2 tbsp. freshly ground black pepper
Instructions:
Combine all of the ingredients in a blender and pulse a couple of times to thoroughly combine. Pour the mixture into a medium saucepan and place over medium heat. Stir continuously until the sauce is heated through, but do not allow it to come to a boil. Remove the pan from the heat. Use the sauce immediately as you like, or, if reserving for a later use, allow the mixture to cool, then pour it into a large bottle or container and store, tightly covered and refrigerated for up to 1 year.
 
MYRON'S PEACH BAKED BEANS
Serves 8
Ingredients:
2 lbs. dried navy or great northern beans
¼ c. light brown sugar, packed
Salt and freshly ground black pepper, to taste
¼ c. prepared mustard
¼ c. maple syrup
½ c. ketchup
3 c. canned peach pie filling
1 (7 oz.) jar diced pimento peppers, drained
Instructions:
Place the beans in a large nonreactive bowl, and add enough cold water to cover them by 3 to 4 inches. Cover the bowl loosely with a kitchen towel and leave the beans to soak at room temperature overnight.
When you are ready to cook the beans, rinse them thoroughly in fresh cold water, and drain. Place the beans in a large pot, and add water to cover. Bring to a boil, reduce the heat, and simmer for 1 hour. Drain the beans.
Preheat a smoker or oven to 300°F.
In a large bowl, combine the brown sugar, salt and pepper, mustard, maple syrup, ketchup, pie filling, and peppers. Mix well. Then add the beans and stir again. Pour the bean mixture into a large aluminum pan. You can assemble the beans to this point 1 day ahead; cover and refrigerate until you're ready to cook them.
Add just enough water to the pan to cover everything, and cover the pan with aluminum foil. Cook in the smoker or oven until the beans are tender, about 4 hours, checking hourly to make sure they aren't drying out (if they are, add more water to the pan). The beans are done when the top is dark brown and bubbling. If you want the top to be slightly crunchy, uncover the pan for the last 30 minutes of cooking.
Let the beans stand for about 15 minutes, then serve.
 
BARBECUE JALAPEÑO – CHEDDAR HUSHPUPPIES
Makes about 16 hushpuppies
Ingredients:
1½ c. yellow cornmeal
½ c. all-purpose flour
1 tsp. baking powder
1 tsp. salt
1 tsp. Louisiana-style hot sauce
¼ c. yellow onion, minced
2 jalapeño peppers, seeded and minced
3 oz. grated sharp cheddar cheese (about 1 cup)
2 large eggs, beaten
½ c. milk
Vegetable oil for deep-frying
1 tbsp. Only Rub (recipe below)
Instructions:
Combine the cornmeal, flour, baking powder, salt, hot sauce, onions, jalapeños, and cheddar in a medium bowl, and mix well.  Add the eggs and milk and mix again to combine; the batter will be lumpy.
Heat 4" of vegetable oil in a large, heavy, deep pot or electric fryer to 360°F. Drop the batter into the oil a heaping tablespoon at a time, frying 6 at a time. When the hushpuppies pop to the surface, roll them around in the oil with a slotted spoon to brown them evenly. Remove and drain on paper towels. Sprinkle with the rub and serve immediately.
 
ONLY  RUB
Ingredients:
1 c. packed light brown sugar
2 tbsp. chili powder
2 tbsp. mustard powder
2 tbsp. onion powder
2 tbsp. garlic powder
2 tbsp. cayenne powder
2 tbsp. kosher salt
2 tbsp. freshly ground black powder
Instructions:
In a large bowl, combine all the ingredients. Stir thoroughly to combine. You can store this rub in an airtight container for up to 1 year.
 
MAMA'S SLAW
Serves 12
Ingredients:
2 small heads green cabbage, coarsely chopped
3 c. mayonnaise
Kosher salt, to taste
2 medium sweet onions, diced
Freshly ground black pepper, to taste
2 ripe tomatoes, diced
Barbecue rub (optional)
Instructions:
In a large bowl, combine the cabbage, onions, tomatoes, mayonnaise, salt, and pepper. Toss thoroughly. You can prepare this up to 6 hours in advance and store it, covered, in the refrigerator. But if you do, do not add the salt until you're ready to serve the slaw, and toss it again just before serving; otherwise, the slaw becomes watery. Garnish with basic barbecue rub, if desired.
Serve immediately.