Melania Trump's jacket skewered by celebrities from Chelsea Handler to Jim Carrey
A chorus of celebrities took to social media on Thursday to blast first lady Melania Trump for the "I really don't care, do u?" jacket she wore before boarding a flight to a Texas facility housing immigrant children separated from their parents.
The the army green anorak-style jacket came from Spain-based retailer Zara with the price tag of $39. The first lady chose a different outfit for her meeting at the Upbring New Hope Children's Center in McAllen, Texas.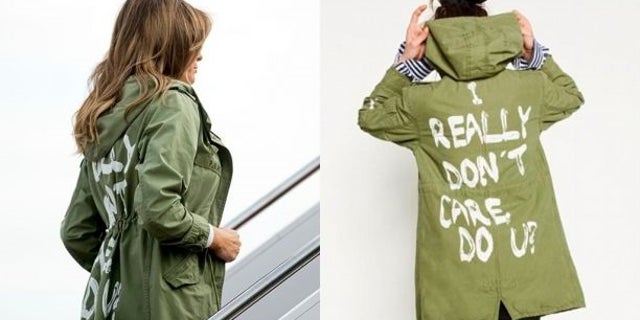 Trump's spokeswoman, Stephanie Grisham, said in an email to Fox News: "It's a jacket. There was no hidden message. After today's important visit to Texas, I hope the media isn't going to choose to focus on her wardrobe. (Much like her high heels last year)."
FEMALE WORLD CUP REPORTER GETS APOLOGY FROM RUSSIAN MAN WHO ASSAULTED HER ON LIVE TV
However, a number of celebrities took to Twitter to slam the first lady's outfit choice.
"Now here's an immigrant I'd LOVE to send back," comedian Billy Eichner tweeted regarding the first lady.
"The hypocrisy of first lady of the United States going down to the border to speak broken English to our refugees in that dumb jacket is a little hard to swallow. For all the Trump supporters who defend her by saying she speaks five languages – English isn't one of them," liberal star Chelsea Handler tweeted.
"It's endless with these morons," "Veep" star Julia Louis-Dreyfus wrote about the jacket.
Actress Busy Philipps tweeted a shirt she made that read: "I care. Do u?"
"Is the first lady of the U.S. so unfamiliar with English that she doesn't know what the back of her jacket says? That her initiative Be Best is grammatically incorrect? Is there NO ONE ON HER STAFF to help her with these things?" Jane Lynch of "Glee" tweeted.
"Wow, she's really starting to seem like the kind of person who would marry Donald Trump," late-night host Stephen Colbert wrote.
"1. So she didn't even need a jacket. 2. Let's assume she needed a jacket.. a woman with a vast wardrobe and access to a stylist had other jacket options to choose from. She knew what she was doing. F--- Melanie," comedian Kathy Griffin tweeted.

Actress Zendaya posted a gif of person shaking their head along with a link to an article about the coat.
"Melania in her 'I don't care jacket' just 'happened' to show up unannounced to doctors, social workers & medical staff. Were they the same staff who locked crying toddlers in cages!? The same staff who made them sleep on floors with tinfoil blankets!?" singer Cher tweeted.
"Nothing comforts a federally-abducted refugee child like a photo op with a Slovenian model wearing a coat that says she doesn't give two c---s about your misery," comedian Jim Carrey wrote along with an image he drew of Trump with a crying child.

Fox News' Samuel Chamberlain contributed to this report.