Megyn Kelly hits back at Jane Fonda, brings up 'Hanoi Jane' critics after plastic surgery question flub
After Jane Fonda repeatedly criticized Megyn Kelly over a question the NBC anchor asked her about plastic surgery, the "Today" host decided she'd had enough.
Kelly used her platform on "Today" on Monday to slam Fonda for continuing to bring up the four-month-old cringeworthy moment after Fonda told Variety over the weekend she would only appear on Kelly's show again "if she comes around and learns her stuff."
"It wasn't like I was upset," Fonda said. "I was stunned. It was so inappropriate. It showed that she's not that good an interviewer."
Kelly said on Monday that Fonda "has no business lecturing anyone on what qualifies as offensive."
A well-placed NBC source tells Fox News that NBC News executives knew in advance that Kelly planned to denounce Fonda but were powerless to stop her.
The "Today" host said Fonda had been invited on her show to "to promote a film about aging."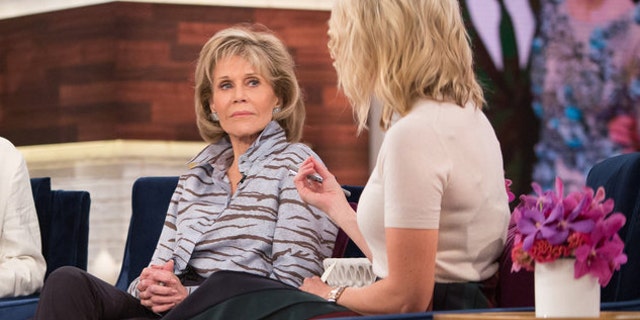 "For years [Fonda] has spoken openly about her joy in giving a cultural face to older women," Kelly said. "The truth is, most older women look nothing like Fonda, who is now 80. And if Fonda really wants to have an honest discussion about older women's cultural face, then her plastic surgery is tough to ignore."
Kelly, 47, added Fonda, 80, has discussed her plastic surgeries "pretty much everywhere." She said she had no way of knowing "this subject was suddenly off limits."
Kelly then went after Fonda's infamous past, saying many American veterans still call Fonda "Hanoi Jane" because of her actions during the Vietnam War.
"I have no regrets about that question, nor am I in the market for a lesson from Jane Fonda on what is and is not appropriate. This is a woman whose name is synonymous with outrage. Look at her treatment of military during the Vietnam War," she said. "She posed on an anti-aircraft gun used to shoot down our American pilots. She called our POWs hypocrites and liars and referred to their torture as 'understandable.' Even she had to apologize years later for that gun picture. But not for the rest of it. By the way she says she is not proud of America."
While Kelly's comments to Fonda were met with cheers from her live audience, NBC staffers were dismayed that their management allowed Kelly to slam the actress.
"The 'Today' staff was appalled at Megyn's comments about Fonda and want nothing to do with them," an NBC staffer told Fox News.
Furthermore, a source says embattled NBC News president Noah Oppenheim "is hiding" from the controversy over Kelly while in North Korea, where he's accompanying "Nightly News" anchor Lester Holt.
"He has absolutely no reason to be there," said the source.
Fonda, for her part, appeared to be ready to laugh about the viral moment with Kelly when she appeared on "Today" earlier this month with her "Grace and Frankie" co-star Lily Tomlin.
"How long have you guys known each other?" Hoda Kotb asked the friends, to which Tomlin said, "Oh, my gosh...I think before your first facelift!"
"What was that?" a surprised Guthrie asked as Kotb burst into laughter.
"Never mind, never mind!" Fonda said. "We don't need to hear that."
"Oh, boy! Now we're getting into it!" Guthrie said.
Fonda then turned to Tomlin and said, "Who are you, Megyn Kelly?"

The Associated Press contributed to this report.