Meghan Markle's media-hungry half-sister turning storybook wedding into a Grimm's fairy tale?
Meghan Markle's media-hungry half-sister has no intention of being silenced, as she continues to dominate the week before Meghan's wedding to Prince Harry with interviews, pronouncements and the puppetting of their shared father.
Samantha Grant has been airing out her family's dirty laundry since Prince Harry, 33, and Markle, 36, announced their engagement in November.
While Americans have become somewhat used to the reality TV-style drama over the Markle family, some Brits are unhappy over the "Jerry Springer"-level media circus.
Londoner Maria, 60, who declined to give her last name, told Fox News that both of Markle's half-siblings, Grant and Thomas Markle Jr., have caused nothing but trouble, including urging their dad to get paparazzi-style pics taken of himself in advance of the nuptials.
"I really think that it's a disgrace, definitely. I really think that they have taken advantage of the situation and have embarrassed Meghan," she said. "[What's] worse [than] having a few pictures that were posed is what the sister is doing..."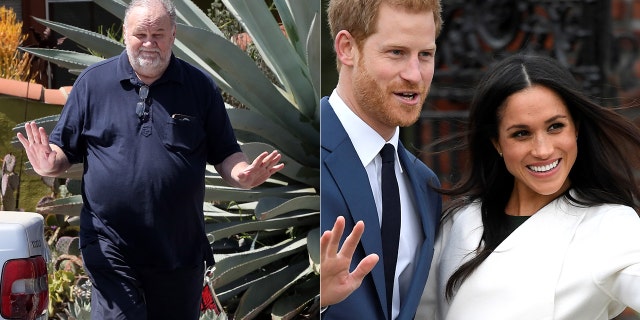 Referencing the media interviews the siblings have given and Grant's tell-all about Meghan, she added, "The sister and the brother are making stuff up… I would never buy that book."
Already this week, Markle's dad has announced he will attend the wedding, won't, will, and then won't again due to heart troubles. Grant, 53, admitted to working with paparazzi to stage photos of their father getting ready for the wedding in Mexico, but then doubled down on her beef with her younger sister.
Grant, who has only spoken to Meghan once in the past decade, isn't letting up, launching yet another attack on the former "Suits" actress on Tuesday.
"[Meghan's] way out of her league to tell me that I can't speak," Grant told TMZ. "She's not qualified to suggest that I don't [speak] under any law in this country. So this is not Great Britain. I am a United States citizen and that's all there is to it."
Grant said she and her dad are being "disparaged" by the media.
"If it's about my life or my father's, there's something in this country known as freedom of speech she doesn't have a copyright on that," Grant fumed. "And she's not going to tell me that I can't speak about my own life or my father's where it's a matter of public defense because the media is disparaging us."
Grant admitted the past year has put a "strain" on their relationship but that as far as she knows "Meg does not have a relationship, that I've seen, with anyone in the family."
She added, "I'm not saying anything about her."
However, Grant has said plenty of critical things about the bride-to-be, including that fame has changed her. She recently detailed her plans for a tell-all book about Markle potentially titled "The Diary of Princess Pushy's Sister."
"She's clearly forgotten her roots," the 51-year-old half-brother of Meghan, Thomas Markle Jr., told U.K.'s Mirror in April. "It's torn my entire family apart. Meg likes to portray herself as a humanitarian, a people's person and a charitable person, but she is none of those things to her family."
Fox News' Leora Arnowitz contributed to this report.