Marilyn Manson pretends to shoot at audience with fake rifle at San Bernardino concert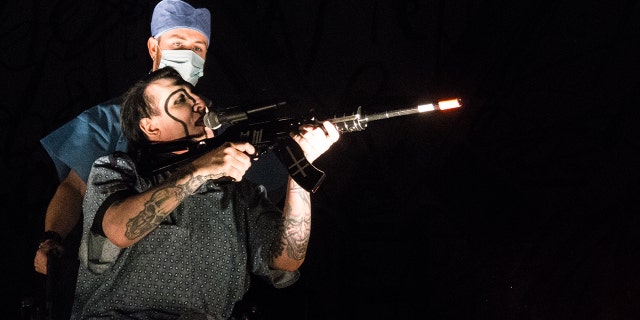 Marilyn Manson pretended to shoot his audience with a fake rifle at his concert on Sunday in San Bernardino, Calif., the same city where 14 people were killed and 24 were injured in a December 2, 2015 terror attack.
The "Beautiful People" singer was in a wheelchair, due to a leg injury, while he carried the fake firearm. He pointed it at the crowd while singing "We Know Where You F****** Live," TMZ reported.
The shock rocker moved the fake gun around and pointed it throughout his performance.
Earlier this year, the 48-year-old rocker said the Columbine shootings were to blame for ruining his career.
"Certain people blame me for the shootings at schools — I think my numbers are low, and hopefully they go up on (my upcoming) record," said Manson, according to New York Daily News. "But, honestly, the Columbine era destroyed my entire career at the time."
The singer did not respond to Fox News' request for comment.