Mariah Carey returns to 'New Year's Rockin' Eve' after last year's disastrous performance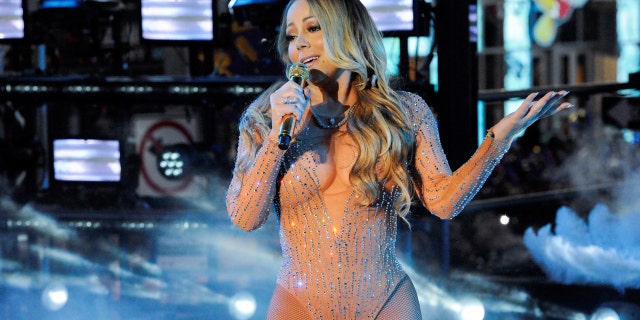 All Mariah Carey wants for Christmas is a redemption performance.
The Grammy Award-winning crooner announced she was returning to "Dick Clark's New Year's Rockin' Eve" following last year's catastrophic performance.
Carey's performance during last year's show in Times Square was marked by embarrassing problems. The "All I Want For Christmas Is You" singer stopped singing during the performance a few times and was visibly upset despite a pre-recorded track playing in the background.
The chaotic show went viral – but not for the right reasons.
MARIAH CAREY'S BODYGUARD ACCUSED OF BEATING UP FAN DURING LAS VEGAS SHOW
Following the show, Carey posted a meme of herself on social media with the message "s--- happens." The fiasco also led to a public spat between Carey and Dick Clark Productions as to who was at fault.
Carey's camp claimed the production company sabotaged her show with technical glitches, including a faulty ear piece. The production company denied the claims and reiterated that Carey's performance was troubled because she didn't properly rehearse.
However, it appears both camps have come to a truce.
MARIAH CAREY POSTPONES CHRISTMAS TOUR DATES DUE TO DOCTOR'S ORDERS
"We can all agree that last year didn't go exactly as planned and we are thrilled to move forward together to provide America with an incredible night of music and celebration on Dick Clark's New Year's Rockin' Eve with Ryan Seacrest 2018," a joint statement released to The Associated Press said. "See you in Times Square!"
Carey will join Camila Cabello, Nick Jonas and Sugarland as other acts slated to perform during the show.
Carey was also criticized for a performance she did during the 2014 "Christmas in Rockefeller Center" tree-lighting ceremony. Deadspin posted a video of Carey's vocals only to highlight the missed notes. Carey apologized for the performance.
"Last night's situation was beyond my control," she tweeted. "I apologize to all that showed up, you know that I would never want to disappoint you."
The Associated Press contributed to this report.