Maluma denies romantic relationship with Ricky Martin: 'I love women'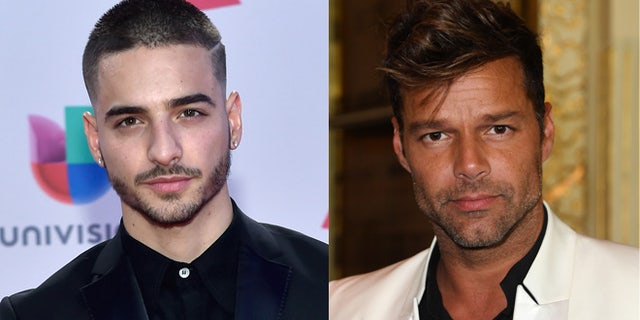 NEWYou can now listen to Fox News articles!
Singers Maluma and Ricky Martin released their new hot party track "Vente Pa'Ca" last month and somehow news of their collaboration turned into rumors that the two were romantically involved.
Maluma is now putting those rumors to rest.
The Colombian heartthrob, speaking to Miami radio station "El vacilon de la Gatita," vehemently denied being involved in a romantic relationship with the Puerto Rican pop singer.
"I am not gay; I don't have a relationship with Ricky Martin," Maluma told the radio station, according to People En Español. "I love women."
He did say he has great respect for the LGBT community, but that people should focus on his music – not who he is dating.
"People should focus on my foundation, my projects and everything positive and important that I am doing in Latin America and the around the world," Maluma added.
As for Martin, who is dating Swedish artist Jwan Yosef, he laughed off the rumors when he was asked in a recent interview on Nuevo Zol 106.7 FM.
"That topic makes me laugh," he said. "It's that one percent of people that transmit bad energy and that threaten your privacy. Simply it was a desire from the gossips to make news from something that is a lie. Like if being gay was a sin."
Martin added he really enjoyed working with Maluma for their single.
"He is a young talent, enjoying his professional success," he said. "I felt very comfortable taping the music video with him."