Madonna's daughter Lourdes Leon gets risque during NYFW runway show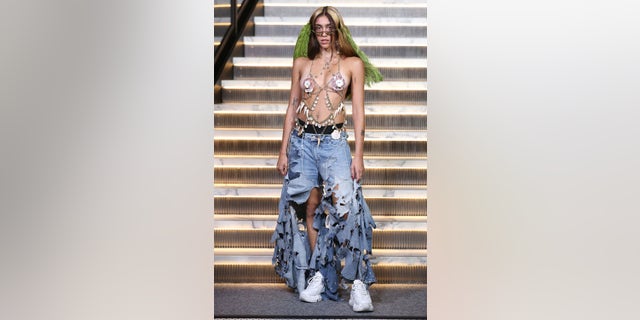 Not much material, girl!
Madonna's eldest daughter, Lourdes Leon, is following in the footsteps of the "Material Girl" singer and embracing the world of fashion.
MADONNA WISHES DAUGHTER LOURDES HAPPY BIRTHDAY WITH A SWEET AROUND-THE-WORLD TRIBUTE
The 21-year-old model strutted her stuff in the Gypsy Sport show for New York Fashion Week on Tuesday.
While on the runway, Lourdes wasn't afraid to show some skin, rocking a skimpy bikini top that appeared to be made of shells and chains.
The racy look was paired with ripped jeans, small sunglasses and giant green feathers in Lourdes' hair.
MADONNA'S LOOK-ALIKE DAUGHTER LOURDES LEON ROCKS PINK BIKINI IN MIAMI
MNWhile Madonna didn't mention her daughter walking the catwalk on social media, she did post a candid shot to her Instagram Story of Lourdes flicking off the camera.
"Mama's girl," the 60-year-old singer captioned the image, which was also shared by Lourdes herself.
Lourdes first started modelling in 2016 as the face of Stella McCartney's perfume, Pop. "I have a lot of people judging my every move," she told Vogue at the time. "It's important for me to not let it rule my life."
MADONNA'S BIRTHDAY CELEBRATION IN CUBA CONTINUES WITH LOURDES