Lohan Released From Jail, Headed to Rehab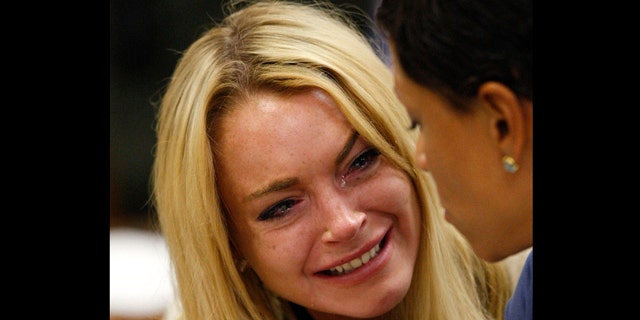 NEWYou can now listen to Fox News articles!
LOS ANGELES -- Lindsay Lohan was released from jail early Monday and taken directly to an inpatient treatment center to complete the second phase of her sentence for violating probation in a 2007 drug case.
Los Angeles sheriff's spokesman Steve Whitmore said actress was discharged at 1:35 a.m. Monday after serving 14 days of a 90-day sentence. She is now required to begin a three-month stint in rehab.
Lohan's attorney, Shawn Chapman Holley, did not immediately return an e-mail message seeking comment.
RELATED: Inside Lindsay Lohan's New Rehab Facility.
A judge in Beverly Hills, Calif., had ordered Lohan to report to rehab within a day of her release from jail, but shortened that time last week after conferring with Lohan's attorney and a prosecutor. Whitmore said Monday that the actress was required to report directly to rehab.
Lohan's abbreviated stay was not unexpected, although it was considerably longer than the 84 minutes she spent at the same facility in 2007. The judge said during Lohan's surrender on July 20 that she had no control over how long the actress would be jailed, but did require her to serve her time a women's jail operated by the Los Angeles County Sheriff's Department.
Inmates such as Lohan who are serving time for nonviolent offenses typically have their stays reduced due to overcrowding and credits for good behavior.
Media have been camped outside the jail since Lohan was booked July 20, catching shots of her mother and sister coming to visit. Holley has also frequently visited Lohan.
She was released to a waiting vehicle and did not walk out the front entryway. That avoided a spectacle similar to when Paris Hilton was released after serving a jail stint in 2007. The socialite smiled as she slapped hands with deputies who held back the assembled throng of photographers before meeting her parents at a waiting sport utility vehicle.
The actress' sentence has put several of Lohan's projects on hold, including her starring role in as Linda Lovelace in a biopic on the porn star's life. It will also prevent her from promoting her role as a gun-toting nun in Robert Rodriguez's "Machete."
Lohan pleaded guilty in August 2007 to two misdemeanor counts of being under the influence of cocaine; no contest to two counts of driving with a blood-alcohol level above 0.08 percent and one count of reckless driving. She was sentenced to three years of probation.
The plea came after a pair of high-profile arrests earlier that year.
The jail facility in Lynwood has hosted several starlets, including actress Michelle Rodriguez and Hilton. Lohan spent 84-minutes there in 2007 after being sentenced for her original case.
Rodriguez served 18 days of her 180-day sentence and was released in January 2008. Hilton served 23 days in 2007 after she was caught driving twice on a suspended license while on probation for reckless driving.
At the time, inmates serving time for nonviolent offenses were serving about 10 percent of their sentences; that figure has now increased to about 25 percent, Whitmore said.