Lena Dunham accused of 'hipster racism' by former Lenny Letter writer
A writer for Lena Dunham's Lenny Letter announced she's leaving the newsletter and accused the "Girls" star and her circle of friends of "hipster racism."
In a lengthy statement posted on Facebook and Twitter on Sunday, Zinzi Clemmons said she has known Dunham since they "ran in the same circles in college," but said the actress and her friends engaged in "hipster racism."
"It is time for women of color — black women in particular — to divest from Lena Dunham," Clemmons tweeted with images of her statement.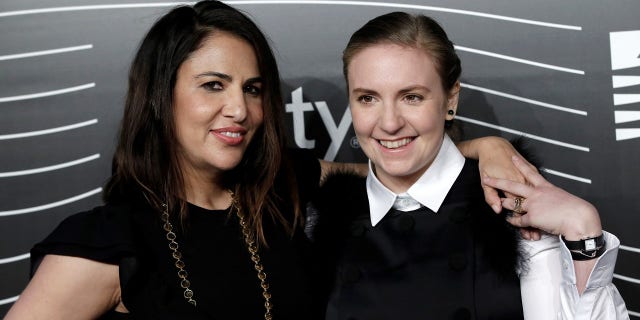 Clemmons wrote they had "mutual acquaintances and still do," describing them as people like Dunham, who are "wealthy, with parents who are influential in the art world."
"Back in college, I avoided those people like the plague because of their well-known racism," she wrote. "I'd call their strain 'hipster racism,' which typically uses sarcasm as a cover, and in the end, it looks a lot like gaslighting — 'It's just a joke. Why are you overreacting?' is a comment response to these kinds of statements," the former Lenny Letter writer wrote.
"In Lena's circle, there was a girl who was known to use the N word in conversation in order to be provocative, and if she was ever called on it, she would say 'it's just a joke.' I was often in the same room with her, but I never spoke to her, only watched her from afar in anxiety and horror," Clemmons said.
Clemmons added that she decided to leave the publication after Dunham supported "Girls" writer Murray Miller, who was accused of sexual assault by actress Aurora Perrineau. Clemmons wrote, "One of my best friends was victimized in almost the exact same way by someone in Lena's circle. It was never addressed, and he continues to move in those circles and has a powerful job."
"I still carry so much guilt, to this day, that I didn't do more at the time, and I worry what effect that had on how she's processed this trauma," she said.
Clemmons said there are "many incredible women who work for Lenny" and claimed that Dunham "betrayed" them through her actions.
"It was wrong for her to make them choose between their authors and supporting their boss. They deserve so much better," Clemmons said. "Let's hold Lena accountable, and to me that means sacrificing some comfort and a little bit of cash, in this moment."
Dunham apologized on Sunday after she supported Miller on behalf of herself and "Girls" executive producer Jenni Konner, who also runs Lenny Letter.
"I naively believed it was important to share my perspective on my friend's situation as it has transpired behind the scenes over the last few months. I now understand that it was absolutely the wrong time to come forward with such a statement and I am so sorry," Dunham said.