Kylie Jenner, Travis Scott pose for a sexy GQ photo shoot, open up about their love and the 'Kardashian Curse'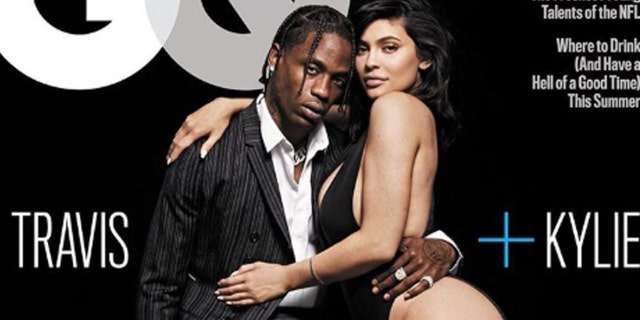 Kylie Jenner and rapper Travis Scott opened up about their romance, co-parenting their daughter Stormi and the myth of the "Kardashian Curse" in the new issue of GQ Magazine.
On the cover of the August issue of the mag, the couple poses for a sexy shoot — Scott clad in a black, pin-striped suit while the 20-year-old Jenner straddles her man showcasing her assets in a skimpy black one-piece.
The raunchy spread not only marks the pair's first photo shoot since going public as a couple in 2017 but also the first time the rapper and beauty mogul, who currently graces the cover of Forbes for her $900 million Kylie Cosmetics beauty empire, open up about their controversial relationship.
Jenner and Scott revealed that they met during Coachella and the sparks flew immediately.
"I really jumped on the bus. And then we rode off into the sunset. I did the whole tour with him," she recalled before adding what her family thought of the couple's swift romance. "My whole family knows that I do whatever I'm going to do. I've been that way my whole life. I don't really answer to anybody. I live on my own, and so I just rode off into the sunset. We had a lot of down time. It was organic," she said.
Jenner continued, "We would just go to these random cities. We got to not be who we really were. Like, if we were in L.A., I feel like it would've been way different. Everything happened for a reason. We weren't going out as 'Kylie and Trav.' We would just be in Cleveland, walking the street for hours. We would go on walks, and no one would bother us."
It was only months later that the 20-year-old reality star learned that she was pregnant and decided to keep the information top secret until their daughter, Stormi Webster, was born in February.
"It was crazy," Scott said of being there for his daughter's birth. "I was there through the hell, the epidural and s---. Crazy."
The rapper then admitted he cried when his daughter was born right before he was asked if he was worried about "falling victim to the Kardashian curse" — the myth that the famous sister seems to destroy all of the men that come into their lives.
"I don't even be looking at motherf-------. I don't be looking at s---. Kylie actually likes me for me," Scott responded.
Jenner also didn't seem phased by the infamous rumor now attached to her famous family explaining that she and her sisters are now used to their celebrity status that a lot of men in the past have not been able to adapt too.
"That's exactly what it is. They come and can't handle it," she explained, adding that even her baby-daddy has a hard time with her fame.
"I don't think he's really cool with it, but he deals with it because we love each other and we have a family. For sure, I know he doesn't like the attention. That's why we just go the extra mile to keep our relationship super private, or like, if he has events or something, I won't come. Because I want him to do his own thing. I want him to be him. I don't want it to be Kylie and Trav. If people don't ever see us together, that's OK with me, because we just do our thing."