Kylie Jenner hounded by Miami cop who was busted on child porn charges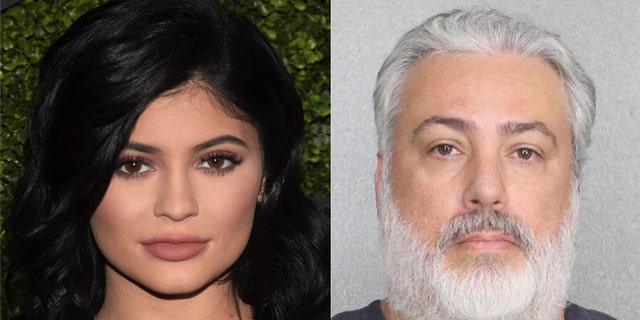 A purported perv cop was caught trying to snag an autograph from reality star Kylie Jenner only three months after being busted on child pornography charges.
47-year old Joseph Mendez, who previously worked with the South Miami Drug Enforcement Agency, was photographed trying to get the attention of the 18-year-old Jenner while she was arriving at Miami International Airport.
Mendez was arrested and charged in September on eight counts of possessing child pornography and seven counts of serving alcohol to minors. The former lawman is accused of seducing several high school students after a number of photos of teenagers were found on his cellphone.
Mendez denies any wrongdoing in hounding Jenner, whom he followed through the terminal to the check-in counter before being moved to the side by the reality star's security detail. Mendez, who was holding a marker and a book containing numerous glossy images of Jenner, said that he approached Jenner for his online business called Memorabilia For You.
Speaking to Inside Edition, Mendez said that he has been collecting autographs since his childhood and has recently turned it into a business. He also denied the charges brought against him.
Mendez, who was the coordinator of the South Miami Police Explorer Program from 2009 to 2014, came under investigation in 2014 over allegations of "insubordination, harassment and conduct unbecoming." He is accused of having inappropriate interactions with multiple underage female cadets, including picking up one of the female cadets from her home and telling her he wanted to play a game called "dare double dare," before asking her to "flash her breasts."
The investigation into Mendez also revealed thousands of images of undressed males and females on his cellphone, with eight of the photos showing sexual performances by children.
Mendez was arrested and suspended without pay in September. He was later released on a $42,000 bond and has since retired from his in law enforcement.
Like us on Facebook
Follow us on Twitter & Instagram