Kirk Douglas remembered by Susan Lucci: 'He is Hollywood royalty'
TV icon Susan Lucci opened up about the death of Hollywood legend Kirk Douglas on Wednesday.
The "All My Children" actress joined the rest of the country in mourning the late actor, who died at 103, according to a statement shared by his son, Michael Douglas. Speaking with "Entertainment Tonight" at the American Heart Association's Annual Go Red for Women Red Dress Collection fashion show in New York City Wednesday, Lucci opened up about Douglas' legacy.
A LOOK BACK AT KIRK DOUGLAS' BIGGEST ROLES
"He is Hollywood royalty and well, deservedly so," Lucci told the outlet. "He was really an inspiration for many people in the industry and a good man. I wish his family all the best."
She also touched upon the late actor's relationship with his family, recalling a time she saw him interacting with his famous daughter-in-law.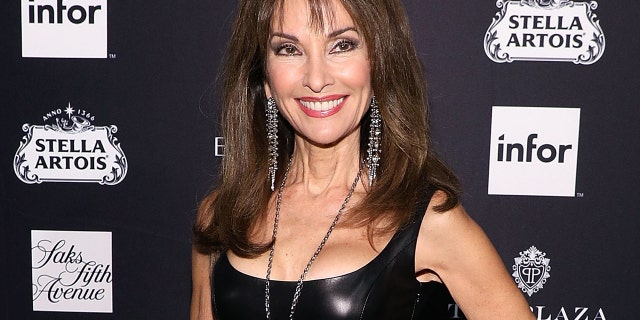 "I remember seeing Catherine Zeta-Jones, his daughter-in-law at an event with him and she was so lovely with him," she added.
The television actress and author was hardly the first celebrity to eulogize Douglas to the public. Stars like William Shatner, Danny DeVito, Carl Weathers, Jason Alexander and more took to Twitter almost immediately after news broke of his death to share their condolences with the family and to honor his legacy.
KIRK DOUGLAS: A LOOK BACK AT HIS RICH FAMILY LIFE
Douglas is known as one of the most famous American leading men of the mid-20th century, remembered for his dimpled chin, chiseled features, and virile Hollywood roles.
A World War II veteran who survived a helicopter crash, a stroke, and two knee replacements, Douglas literally rose from rags to riches -- his father was a ragman -- and starred in over 80 films, including, perhaps most famously, "Spartacus." He remained in the public spotlight well into his senior years, if not as an actor then as a producer, author, and blogger.
CLICK HERE TO GET THE FOX NEWS APP
He is survived by his wife of 65 years, Anne Buydens, their son Peter Douglas, two sons from his first marriage -- Michael and Joel Douglas -- and seven grandchildren.
Fox News Mariah Haas contributed to this report.