Kim Kardashian, Kanye West, Common, Miley Cyrus and more support March for Our Lives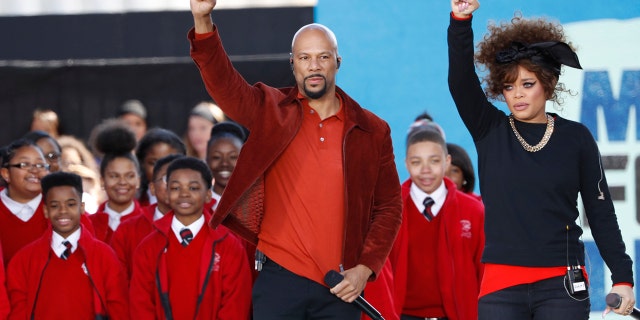 Kim Kardashian, Kanye West and more celebrities have made their way to Washington, D.C., for the first-ever March for Our Lives gun control rally.
Upon arriving in D.C. for the march, Kardashian tweeted, "So ready to March today! Landed in DC w North & Kanye. We stand in solidarity with the survivors of gun violence & students who are calling for action on common sense gun safety laws at #MarchForOurLives around the country."
As people from all over the world gather for the rally organized by the students of the Florida high school impacted by a deadly school shooting last month, celebrities have also come together to express their support for the worldwide movement.
Dwayne "The Rock" Johnson tweeted, "I'll always stand for open dialogue and action - it's the only way to ensure bad history doesn't repeat itself. When it comes to protecting our children, all bets are off and the responsibility lies with us adults and lawmakers to listen and do. Very strong day."
The "Mamma Mia 2" star Cher expressed her excitement about heading to the nation's capital and said, "On way to DC .......MARCHING WITH THE YOUNG ONES & OLDER ONES....MAYBE EVEN SOME ACIENT ONES LIKE ME."
More celebrities including Pearl Jam, Jennifer Lopez, Justin Timberlake all took to social media support the march.
The Saturday event, which began at 12 p.m. EST, is to feature a march on Pennsylvania Avenue with an estimated 500,000 people, speeches by Marjory Stoneman Douglas High School students and performances by A-list celebrities such Common, Miley Cyrus, Andra Day, Ariana Grande, Jennifer Hudson, Demi Lovato and Lin-Manuel Miranda.
A-list stars such as Steven Spielberg, George Clooney, Oprah and Taylor Swift also contributed to the march by donating thousands of dollars to the march.
With more than 800 sister marches taking place worldwide, in cities such as London, Tokyo, Sydney, Chicago and Mumbai, more celebrities like Amy Schumer, Olivia Wilde, Charlie Puth and Connie Britton are also said to take part in the Los Angeles march, according to TMZ.
In New York City, The Beatles frontman Sir Paul McCartney joined the March for Our Lives protest and said to CNN reporters, "As you know, one of my best friends was shot not far from here." The iconic singer added that it was important to him to be apart of the rally.
Of the overall gun violence march movement, former U.S. President Barack Obama tweeted, "Michelle and I are so inspired by all the young people who made today's marches happen. Keep at it. You're leading us forward. Nothing can stand in the way of millions of voices calling for change."