Kelsey Grammer tells Jay Leno being a Republican cost him Emmy nod for 'Boss'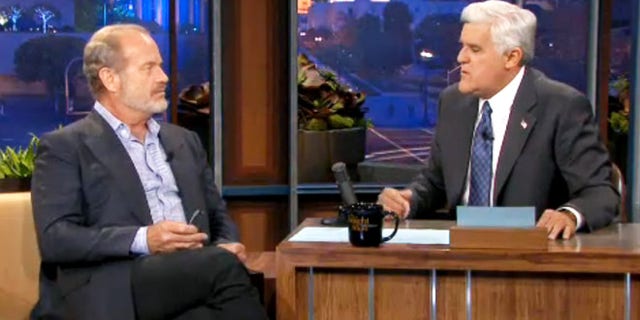 Did the Emmys snub Kelsey Grammer because he's a Republican?
That's what the actor told Jay Leno on the 'Tonight Show' on Wednesday night.
After asking him questions about an early stand-up routine and his first tattoo, Leno brought up the Emmys, which air in September.
"Now explain something to me, you get a Golden Globe for 'Boss,' but you don't even get an Emmy nomination," Leno asked.
"Yeah, its hard to figure," Grammer said. "It may have to do with several things, honestly, but I think it's possible, I mean, I am a, I'm a declared out of the closet Republican in Hollywood."
Light applause rippled through the audience and Leno emitted a comic gasp.
"Do I believe it's possible that some young person, young voting actor, or even older voting member for the Emmys, would sit there and go, 'Yeah, that's a great performance, but oooooh, I just hate everything he stands for?'" Grammer asked hypothetically, before answering with sarcasm: "I don't believe that's possible."
Leno pointed out Grammer was no stranger to winning Emmys, having won for his work on "Cheers" and "Frasier."
Grammer explained that it was only after his last win did it become known he was a member of the GOP.
"Just after that last [Emmy win], I became (a Republican)," he said.
Leno offered another explanation, saying that while "The Boss" is great, it was on a network, Starz, that not a lot of people, including Emmy voters, watch.
"Well that's not good is it," Grammer laughed.
Earlier this year, right after he picked up his Golden Globe, Grammer told FoxNews.com at a post-show party that "being a Republican in Hollywood is easy for a guy like me because I was such a revolutionary."
Following his Emmy snub, it sounds like Grammer has changed his tune.