Keeping Up with the Riveras: Kids of late singer Jenni Rivera will star in reality show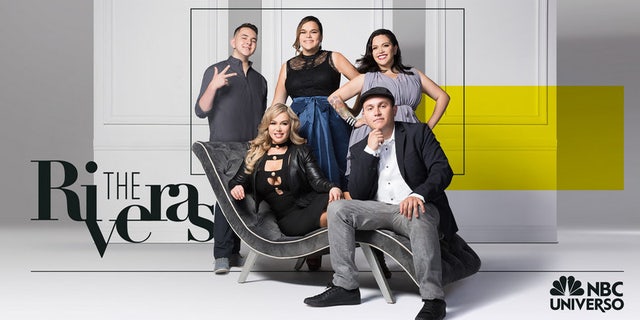 NEWYou can now listen to Fox News articles!
Jenni Rivera's children are finally ready to get back in front of the small screen and give her fans what they might have been missing since her traffic death nearly four years ago.
Chiquis, Jacqui, Mikey, Jenicka and Juan Angel were all part of the "I Love Jenni" reality show that their mother was filming when she died in December 2012. The children took a break from the cameras but now feel like they can give fans a little bit more about where they are now in their lives.
"The audience kept asking and we had said that after the third season of I love Jenni we were pretty much done with it because that show isn't 'I Love Jenni' without my mom," Chiquis Rivera, the singer's oldest daughter, told E! News. "And everyone would always ask when we were coming back, but I think we needed that break."
Now, all five children star in the new reality show "The Riveras" that is now airing on NBC Universo. It's a spin-off of "I Love Jenni."
"We needed to go through the motions and the healing process. Then they offered it, and then I sat with our production company Blank Paige, and we came up with the idea. So I said, 'OK, but I want to be an executive producer because I want to make sure that we're all protected and so that we can be as open as we are,'" Chiquis added.
She said it has been very normal for them to get in front of the cameras and give their fans a glimpse of how they are dealing with the loss their mother.
"I think that we're just comfortable and we're OK with not faking the funk and being ourselves. We're OK with people seeing us naked in that sense, you know, as to this is who we are and this is what we have to offer," Chiquis said.
With the new show fans will see Chiquis following in her mother's footsteps and singing regional Mexican music, while her brother Mikey Rivera is a signed writer and back in school to continue growing his career for his daughter.
The singer's youngest, Juan Angel Lopez, is a co-producer for his mother's most recent album and wants to continue working in the regional music scene. Jenicka Lopez, the youngest daughter, is still figuring out what she wants to do with her career, E! New reported.
Jacqui Marin, a mother of three, handles her mother's Love Foundation and is also thinking of doing a Christian music album.
All this will play out in "The Riveras," which airs Sundays at 10 p.m. on NBC Universo.