Kate Walsh Urges Students to Boycott Bristol Palin Abstinence Speech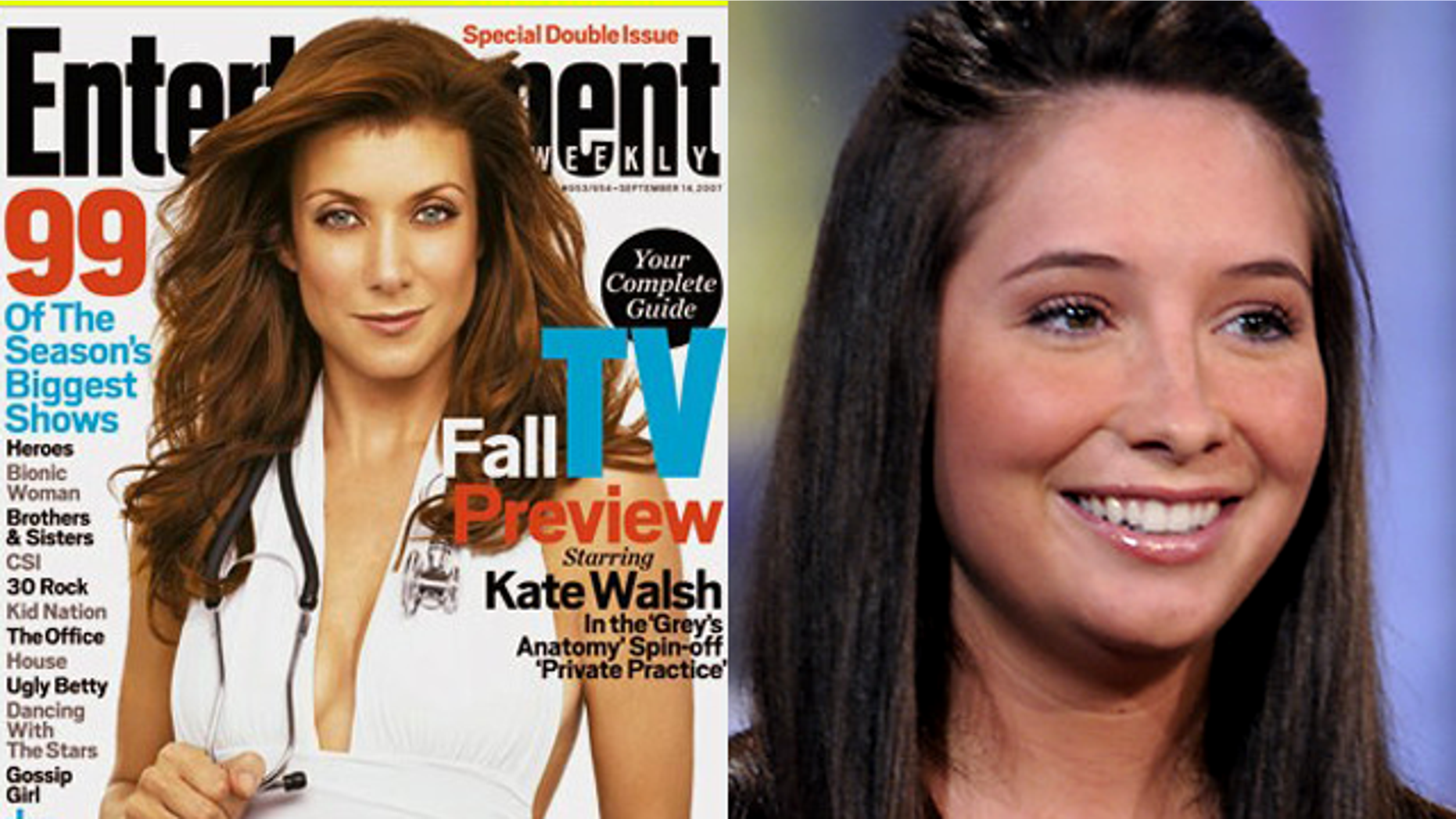 Bristol Palin, the Teen Abstinence Ambassador for the Candie's Foundation fighting teen pregnancy, has been invited to join a panel of speakers at Washington University in St. Louis next month as part of the school's Sexual Responsibility Week.
The college's Student Health Advisory Committee was granted a $20,000 funding request by the Student Union Treasury to book a panel of speakers, and even though it is not known how much Palin (who has yet to RSVP) would be paid out of that fund, protests have been taking place on campus, with students holding signs that say "Can I get paid for an accident too?"
Several Facebook pages have also been established in an attempt to have Palin uninvited, and even Hollywood is getting involved.
"Private Practice" star Kate Walsh, a member of the Planned Parenthood Federation of America, entered the fray on Wednesday by urging her Twitter followers to join in and protest Palin's possible appearance.
"Welcome to the Idiocracy! RT @elliekirsh: @katewalsh please join students at Wash.U. to boycott Bristol Palin's speech on abstinence. What does she know about college or abstaining?" Walsh tweeted.
Palin and Walsh did not respond to our request for comment.
A representative from Washington University told FOX411's Pop Tarts that the college itself did not invite Palin, the Student Health Advisory Committee did.
"Washington University provides students the opportunity to hear and discuss points of view on a broad range of issues," said the rep. "Through a longstanding process, student-generated funds are made available through student government to enable programming created and managed by our students. Generally, this is an effective process that involves both controversial and mainstream presenters."
While the two may have different views when it comes to the most appropriate mode of contraception, some feel Walsh was out of bounds trying to silence someone else from sharing their opinions.
"This is just another page in the constantly developing story of how our nation's leading liberals – the supposedly open-minded folks – continue to betray the very idea of the university as a place where students are exposed to all sorts of ideas," Glenn Stanton, a spokesperson for Focus on the Family told Pop Tarts. "We are finding that many of those on the left are the most rigid fundamentalists in culture today. They have it all figured out and have no patience for hearing an alternative voice."
Hollywood publicist Angie Meyer believes Palin is being targeted by Walsh and the protesting students not because of her convictions regarding abstinence, but because of her "controversial" last name.
"The celeb-left won't leave the Palin family alone. Bristol Palin is an advocate for sexual responsibility, and like any other public figure on the speaking circuit, she is paid to represent the cause," Meyer explained. "Celebrities and reality stars are paid also paid millions to attend club openings and parties. Perhaps if Kate Walsh was more concerned with troubled celebrities getting paid to attend alcohol-sponsored parties, and less worried about celebrity youth advocates earning speaker fees, her opinions might be taken seriously."
Even supporters of Walsh are a little perplexed by her decision to target a 20-year-old girl.
"She is just trying to tell her story about being a pregnant teen," said pop culture expert Jenn Hoffman. "Bristol is hardly a threat. I wonder why Kate (Walsh) thinks this particular event was so wrong or dangerous that she should help facilitate a boycott."
In fact, Walsh received quite a bit of heat on her Twitter page, prompting the actress to respond:"I'm not attacking anyone, freedom to tw'eet. Isn't our country great? Or r YOU a communist?"
Conservative political commentator and movie critic Michael Medved said he had received similar boycott calls in the past.
"For universities that are supposed to encourage the free exchange of ideas and information, urging boycotts is a terrible idea," he said. "When leftist groups have attempted to boycott my appearances it has never stopped me – and only helped generate publicity and excitement about the events in which I'm participating. I'm sure the same will happen for Bristol. You go, girl!"
Deidre Behar contributed to this report.