Kate Upton's Low-Cut Party Attire, Kylie Jenner's Successful New App, and Much, Much More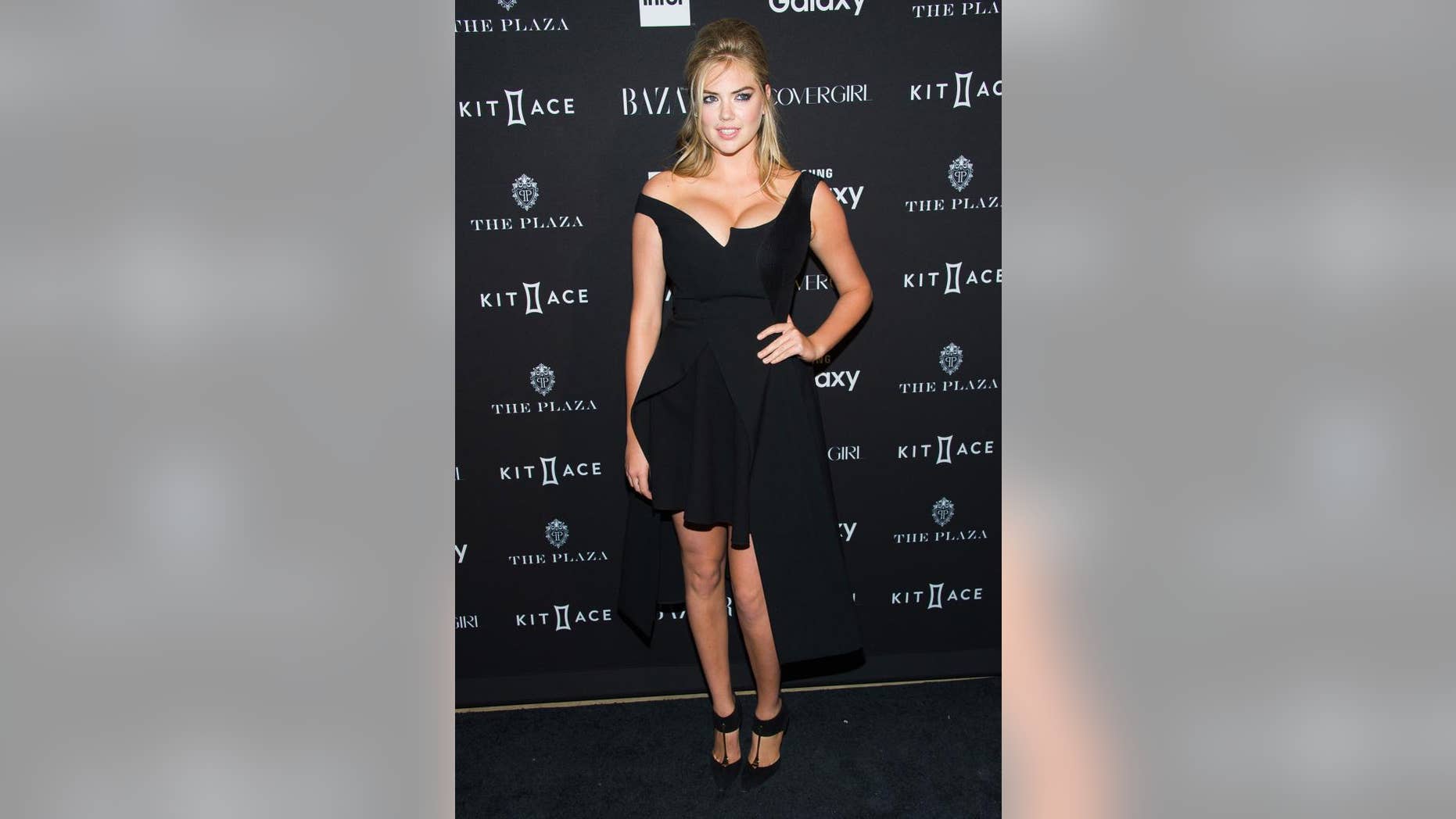 Here's what everybody's talking about at the water cooler:
• Former Sports Illustrated swimsuit model Kate Upton attended for the glamorous Harper's Bazaar 'Icons' Event in New York City on Wednesday night, arriving in a multi-length LBD that barely covered her massive icons (above).
• Earlier this week on Instagram, Kate also shared a racy pic in only a corset from her recent photoshoot with V magazine (below). In the interested of full disclosure, however, this photo was originally released in V's "Best of the Best" issue back in late August, so our apologies go out to the three of you who actually shelled out $8 for a copy a few weeks ago.
• Kylie Jenner is being touted as the most influential Kardashian sister after sales of her brand-new mobile phone app skyrocketed past her four sisters, who all released their own apps on the same day. Interestingly enough, we can find several different websites that confirm that fact, though not one that can tell us what the heck Kylie's app actually does.
• FX has released a new teaser for the "American Horror Story: Hotel" which features Lady Gaga wriggling around inside her creepy hotel while "Du Hast" by German rockers Rammstein plays in the background (below). However, it's still not quite as disturbing or off-putting as the actual music video for Rammstein's "Du Hast."
• Actress and director Elizabeth Banks, of such film as "The 40-Year-Old Virgin," "Role Models" "Wet Hot American Summer," and literally 36 other projects co-starring Paul Rudd, is reportedly in talks to direct a reboot of "Charlie's Angels" for Sony Pictures. So if you've ever wanted to see what Rudd looks like with long, feathered hair, this will probably your best shot.
• Earlier this week, "Royals" actress Elizabeth Hurley shared a selfie from her trailer wearing nothing but a puffy winter coat and no pants (below). It's easy to assume she snapped the sexy pic to drum up attention for the show, but that's not the case. In actually, this is how all Brits dress to prepare for changes in the notoriously fickle English weather:
• According to Us Weekly, Prince Harry and his former flame Chelsy Davy may have rekindled their romance during Harry's 31st birthday celebrations, but Britain's DailyMail is also claiming that ex-girlfriend Cressida Bonas broke up with her boyfriend in the hopes of getting Harry back. So apparently there's only two eligible women in all of London.
• And finally, as confirmed by guitarist Keith Richards, the Rolling Stones have made plans to record their first new album in over a decade. And fans everywhere should make plans to see the Stones when they inevitably tour in support of the album, because this could be the last time. This could be the last time. Maybe the last time. I don't know. Oh no. (Guitar break.) Oh no.