Kate Upton says she loves 'all the states in America'; wishes she could change one thing about self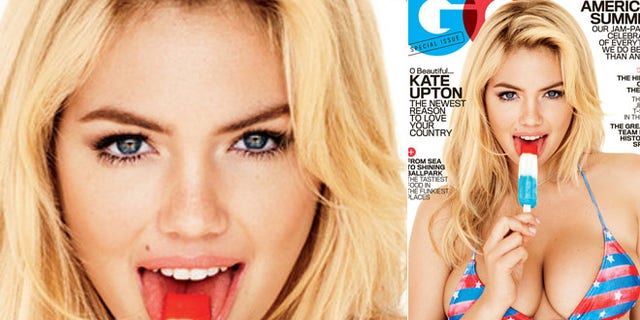 Kate Upton says that if she had one wish, "I would have smaller boobs" in a new in a behind-the-scenes video from her sexy GQ cover shoot.
But from the number of times Upton loses her top in the video, it seems like she doesn't have too many regrets about her curvaceous body.
The video shows photographer Terry Richardson photographing the model in a variety teeny bikinis, and, in numerous shots, Upton doesn't bother with the tops, TMZ reported.
Go to The Post to watch the video.
One segment shows her rolling in the grass topless and covering herself up with her hands. In another she covers her breasts with two, mini American flags, and wears a pair of unzipped denim shorts.
She's also shown seductively sucking on a red-white-and-blue popsicle while pulling down one side of her bikini bottoms. And, in another set up, she poses in a pool wearing a sheer, white T-shirt.
There are also brief interview segments that punctuate the flesh-baring, and, if anyone can manage to pay attention to them amidst the racy images, Upton reveals that he favorite food is "sushi," favorite restaurant is "Nobu" and that she loves, "all the states in America."
"I just love America," the model says.
On GQ's cover, Upton wears a small, star-spangled bikini.