EXCLUSIVE: Kate Upton 'hottest girl' yet to do Carl's Jr. commercial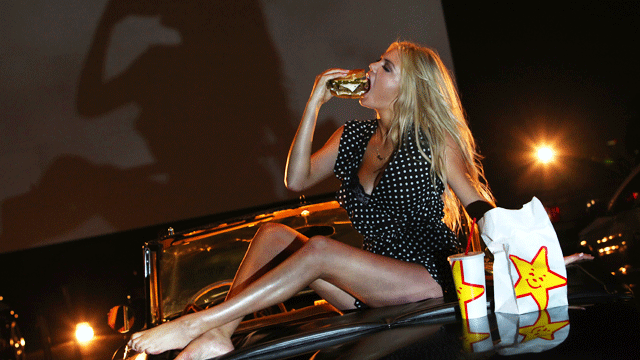 Carl's Jr./Hardee's TV ads have a reputation for turning the consumption of a humble hamburger into an orgasmic experience – witness Kim Kardashian, Padma Lakshmi and Paris Hilton's lustful chomping for the national chain.
Now, 2011 Sports Illustrated Rookie of the Year swimsuit model Kate Upton is in a position to out-sexy them all with her racy new ad for the chain's new Southwest Patty Melt.
"Kate's probably the hottest girl we've ever worked with," declared ad agency 72andSunny's creative director Justin Hooper. "We love each of the women we've worked with, but there's something about Kate that's so All-American, so beautiful and very classic."
Fox411.com was on hand Tuesday night as, high above the lights of downtown Los Angeles, a heliport in Elysian Park was transformed into a '50s drive-in for Upton's commercial, complete with a vintage monster movie and a classic convertible.
Of course, like most 19-year-olds, Upton has never actually been to a drive-in movie.
"My mom used to go to them all the time, and she told me about them," Upton told Fox411.com. "She loved them."
Upton, not wearing much more than a filmy polka-dot dress, expertly writhed and arched her back on top of the vintage car as she munched on the sloppy sandwich. "I've been modeling for almost five years now, and so being shy kind of went out the door a while ago," declared Upton. "I'm very confident in my body."
PHOTO: Kate Upton really likes her patty melt.
Despite the chilly 50 degree temperature, Upton got things hot and bothered on the set. "It's the Southwest Patty Melt, and it's one of their classics, but now they're adding a little spice–adding some jalapeños and making it a little bit hotter," explained Upton. "I'm a '50s girl with a little cardigan on, a really sweet kind of a girl. But then I take a bite and all of a sudden, I'm sweating, and I'm taking off all of my clothes and I'm in my lingerie!"
Indeed.
Upton said her family firmly supports her venture in the erotic burger arts – up to a point. "Of course, I told them and they're very excited about the commercial," she said. "They realize that I can turn on the sexy, and they were probably like, 'Tone it down!'"
With a knockout figure to maintain, the Southwest Patty Melt remains only an occasional indulgence for Upton. "I love burgers, but I definitely can't have them every day," she said. "It's a special treat, for sure. Maybe once a week."
Upton's beloved Corgi-Jack Russell mix, Boots, may also get to indulge in a treat from Carl's Jr./Hardee's. "This is the first time she's been on set with me," she said. "She's 10 years old and I've had her since she was a puppy. I'll have to see if she can try a patty melt, she definitely eats people food!"
The blonde bombshell is also addicted to Twitter (and tweeted a pic from the shoot). "When I first got Twitter, I tweeted about working on set and being on set, but now almost all my clients don't let me tweet about behind-the-scenes stuff," said Upton, otherwise known as @kateupton. "They realized I was a little too Twitter friendly!"
While Upton won't say if she's dating anyone ("I like to keep my personal life private"), she has a couple of requests for potential suitors. "Being laid-back and having a sense of humor is definitely important to me," she said. "And he has to take me to a drive-in movie theater!"
Upton's commercial will air in late February, right when the new sandwich hits menus.