Kate Hudson reveals she's pregnant with baby girl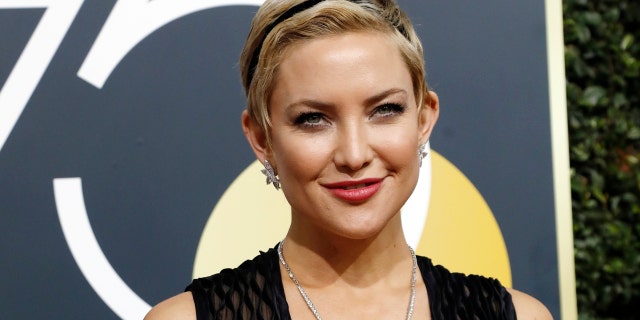 NEWYou can now listen to Fox News articles!
Kate Hudson is pregnant!
The 38-year-old actress took to Instagram on Friday to reveal that she's expecting her first child with boyfriend Danny Fujikawa. Hudson, who shares 14-year-old son Ryder with musician Chris Robinson, and 6-year-old son Bingham with Muse frontman Matt Bellamy, is expecting a baby girl.
"SURPRISE!!!" she captioned a video of her gender reveal. "If you've wondered why I've been so absent on my social channels it's because I have never been more sick! It's was the most sick first trimester of all my children. Boomerangs have made me nauseous, Superzoom is an easy way to have my head in the toilet, food instagrams make me queezy and thinking too much about insta stories made me even more exhausted than I already had been."
Kate Hudson and Danny Fujikawa Share a Sweet Kiss After Workout Date
"If you've seen me out and about smiling and pretending like everything is amazing...I was lying! BUT! I have broken through on the other end of that and rediscovering the joys of insta/snap. We have been trying to keep this pregnancy under the radar for as long as possible but I'm a poppin now! And it's too darn challenging to hide, and frankly hiding is more exhausting then just coming out with it!" she explained. "My kids, Danny, myself and the entire family are crazy excited! A little girl on the way."
Hudson, who has been dating Fujikawa for over a year and has known him for over a decade, hasn't been shy about sharing her desire to have more kids. In an interview with "The Times" last week, the actress said she'd "like to" start a family with Fujikawa. "I'm not done yet," she said. "A girl would be fun."
"We'll see how many Danny wants," she added.
Kate Hudson Wants More Kids With Boyfriend Danny Fujikawa: 'A Girl Would Be Fun'
"I never had an adult life without kids," Hudson remarked. "My friends had their whole twenties -- they're all just getting pregnant now. But everything I've experienced has been great, albeit not conventional, including my childhood."
Hudson and Fujikawa made their red carpet debut as a couple at the premiere of "Snatched" in Los Angeles last May, where Goldie Hawn and Kurt Russell couldn't help but gush over the pair.
"He's a nice guy, Danny. Yeah, I like him," Russell told ET. "I always approve. Kate brings good guys."
"He's a great guy," Hawn raved. "Yeah, he's very special actually."
Kate Hudson Celebrates 'First Date Anniversary' With Danny Fujikawa With Sweet Pic & Story of How They Met