Kanye West denies being 'stumped' by Jimmy Kimmel's question on Trump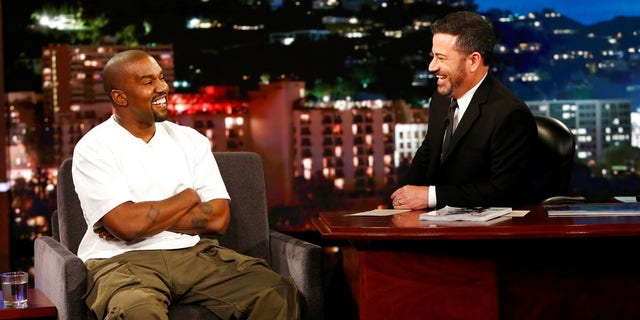 Kanye West on Saturday denied he was "stumped" on "Jimmy Kimmel Live!" when the host asked the rapper about his support for President Trump.
West took to Twitter to address reports that he was "stumped" during his Thursday night appearance when host Jimmy Kimmel asked the rapper why he thought Trump cared about black people. The host was echoing West's infamous comment in 2005 when he said former President George W. Bush didn't care about black people.
West appeared to take a long pause before Kimmel suggested to go to commercial break. When they returned, West didn't answer the question.
The 41-year-old rapper tweeted Saturday that he "wasn't given a chance to answer the question."
"On Jimmy Kimmel we had a great time having a dialogue. I'm reading that I was stumped by a question. Let me clarify the click bait. I wasn't stumped. I wasn't given a chance to answer the question," West said.
"The question was so important I took time to think. And then I was hit with the let's go to commercial break. That interview showed strong personalities with different opinions having a civil conversation," he tweeted in a second post.
KANYE WEST DEFENDS HIS SUPPORT FOR TRUMP: 'LIBERALS CAN'T BULLY ME'
West said earlier in the segment he would not be "bullied" by those on the left because he supported the president.
"Just as a musician, African-American, guy out in Hollywood, all these different things, you know, everyone around me tried to pick my candidate for me," the Chicago rapper told Kimmel. "And then told me every time I said I liked Trump that I couldn't say it out loud or my career would be over; I'd get kicked out of the black community because blacks -- we're supposed to have a monolithic thought, we can only, like, we can only be Democrats and all."
West has maintained his vocal support for Trump since the 2016 presidential election.
On Saturday, West said there was no hard feelings between him and Kimmel despite their differing views.
"I was so happy when I saw Jimmy walk out in the Yeezys. That was an olive branch. He lead with love. I appreciate Jimmy and his team. You guys are Jedi's. much love," West tweeted.
Fox News' Gerren Keith Gaynor contributed to this report.