JWOWW Dissed by Jealous Kim Kardashian?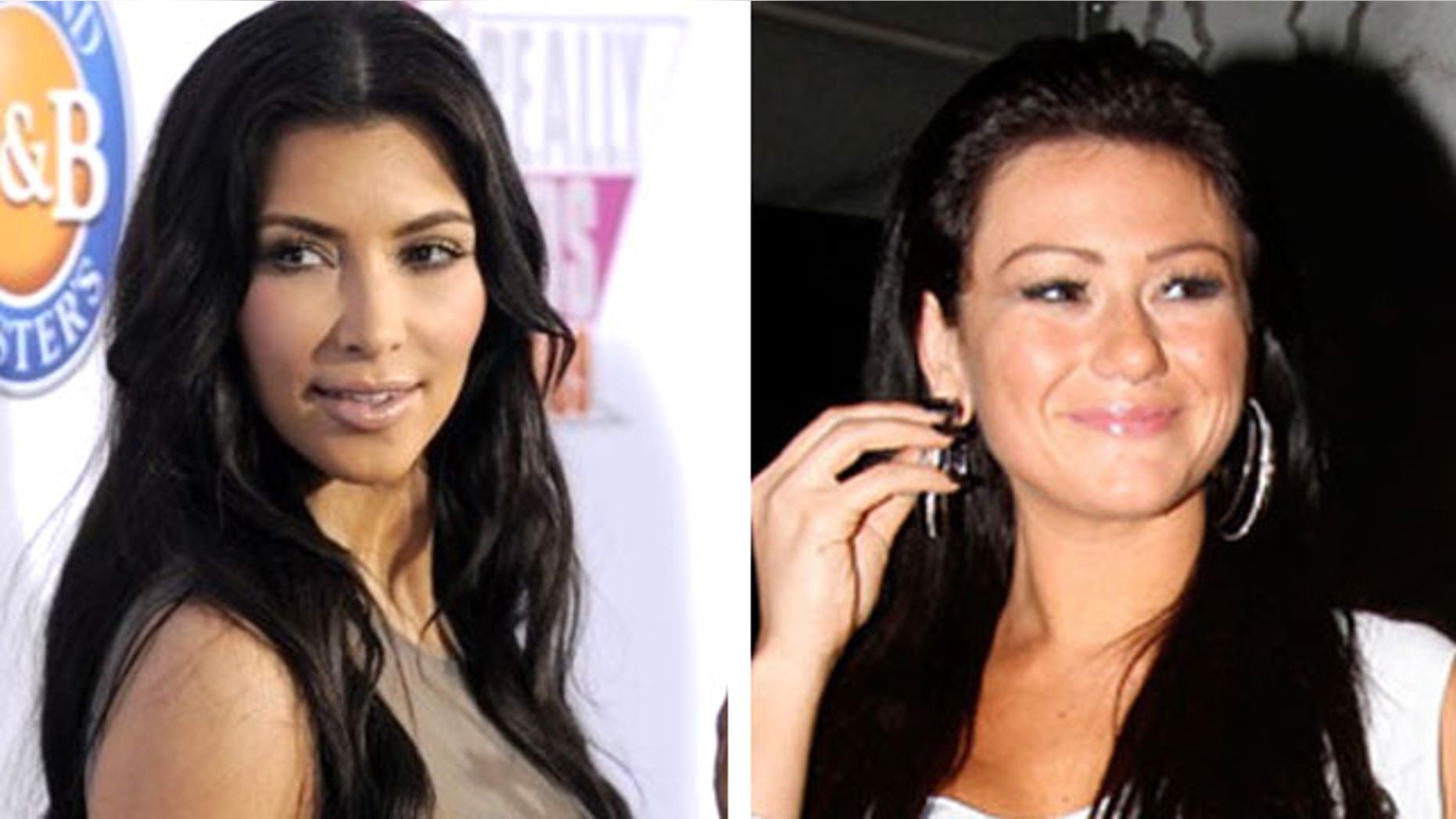 "Jersey Shore" sensation Jenni "JWOWW" Farley apparently managed to do the unthinkable earlier this week – upstage reality darling Kim Kardashian at her very own fashion show. Farley sat front row at the debut of Kardashian's new clothing line for Bebe Stores, entitled Bebe-Kardashian, but we're told it was JWOWW who all the photographers were scrambling to snap and upon hearing of her presence a mob scene ensued.
"Honest to God, I don't know if that's just me being grounded, but I wasn't even expecting to take one picture there," Farley told Pop Tarts. "I just wanted to sneak in, sit down and watch it and maybe get to meet Kim, but when I walked in there was a lot of publicity. I took it the best way I could."
So was it that Kimmy K was miffed and didn't want to associate with the controversial "Jersey Shore" starlet? Or was she genuinely just too busy to say hi?
SLIDESHOW: Click here for photos of Kim Kardashian
We're told a handler for Farley reached out to Kim's peeps several times throughout the show in the hope that the two reality ladies could meet, but the requests were shot down because "the spotlight" needed to stay on 29-year-old Kardashian.
However according to a rep for the "Keeping Up With the Kardashians" starlet, that wasn't the case.
"Kim didn't get to meet any of the celebs that were there. She was backstage all morning doing interviews and prep and then went right to her seat when the show started and then was taken immediately backstage after the show for more interviews," said the rep.
SLIDESHOW: Click here for JWOWW's 'Jersey Shore' Style 
RELATED: JWOWW Reveals to Fox That Neither She Nor Snooki Are Italian
Whatever the reason, Farley was left pretty disappointed that she didn't get to meet Kimmy K.
"I really wanted to go there just to meet Kim, but that didn't happen. I don't know why," Farley said. "I was really wishing that I could meet her, I don't know if it was because there was too much media surrounding me, or I took too long answering the media questions. I don't know what happened."
SLIDESHOW: Celebrities at New York Fashion Week
And note to the guys: if you wouldn't mind winning JWOWW over, it seems the way to wow her is through a bit of fluff.
"A fan heard I was staying at a certain hotel and I wasn't able to take a picture with them at a club appearance the night before. I was leaving my hotel at nine the next morning and they had been waiting for me to come outside all night and all morning," she said. "They (the fan) gave me a teddy bear and I took pictures with them, the whole thing was all very unreal for me. Now I have the teddy bear in my house, I even took pictures and sent the photos to them. I say my number one fan gave it to me."
SLIDESHOW: Click here to see photos of the 'Jersey Shore' cast
And if you thought MTV's new "it girl" was all boys, boozin' and bikinis – think again. The Long Island native spent some time this week kicking off another cause very close to her heart: a new music and dance program for children with autism and other disabilities, initiated by Family Residences and Essential Enterprises (FREE).
"It was so amazing watching hundreds of children singing, dancing, drawing, cooking – children that had autism five years ago and were so irritable that they couldn't touch someone, and now they're all holding hands and smiling," she said. "Art to me is one of my number one passions, so it was an amazing experience to watch them sing and re-enact Broadways plays."