Johnny Depp Keeps His Fuderwhacking Private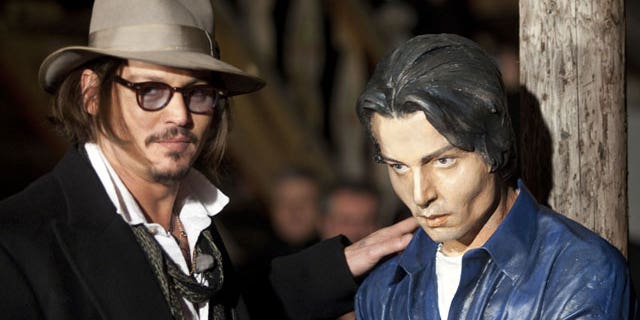 Be warned – everybody around you may very well be "fuderwhacking" in just a couple of weeks time thanks to Tim Burton's new 3D epic "Alice in Wonderland," which features Johnny Depp as the Mad Hatter engaging in the not-to-be-missed "fuderwhack" happy dance.
However, Depp wasn't up to showing off his movement skills while promoting the flick in Los Angeles on Saturday.
"The happy dance was something that Tim had a very curious vision for," he said. "But, I can fuderwhack with the best of them. We had to treat that like a stunt."
Burton was also quick to put a stop to anyone pressing Depp to bust out with some choreography.
"He's injured himself. He cannot do it today," the director interjected. "You wouldn't question Fred Astaire like this, he [Depp] likes to keep his fuderwhacking private, as we all do."
It turns out Depp wasn't opposed to donning a dress and blonde locks just for the opportunity to work with Burton for the zillionth time.
"He could have said I was playing Alice and I would have said yes," Depp said. "I would have done whatever character Tim wanted, certainly the Mad Hatter was a bonus and great challenge."
Although when it comes to watching their daddy on the big-screen, Depp's little ones have a clear favorite.
"Edward Scissorhands is by far my kids' favorite. It's funny because they've seen it, but they have a difficult time watching it because it's their dad and they make that connection," he explained. "They connect with the character and they see their dad feeling that isolation and loneliness. He's a tragic character, so it's hard for them. They bawl when they see that."
And with production slated to start on "The Tourist" this week, Depp is anticipating plenty of prying eyes as he gets hot and heavy alongside co-star Angelina Jolie in Italy.
"You never know what's going to happen. I suspect there may be a few paparazzis in Venice," he said, adding that it will be "swell" to work with the sultry starlet.
As for the Venice paps, well it is already in full-force.
Jolie was spotted out over the weekend with beau Brad Pitt, their ever-evolving family and (drum roll) her previously estranged father, Jon Voight.
"We're talking," Voight recently told us.
The photo of the famous father and daughter is the first time they've been snapped together in many, many years.