Johnny Damon blasts Trump haters for 'continuing to fight him'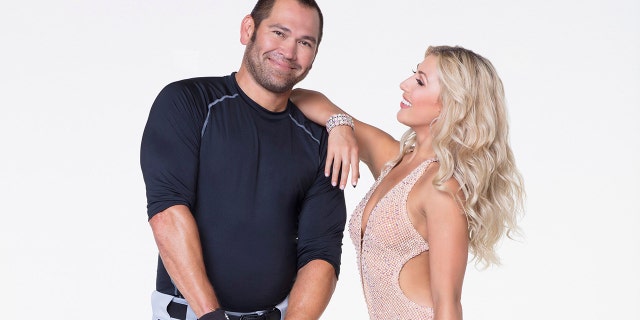 NEWYou can now listen to Fox News articles!
LOS ANGELES – Baseball icon Johnny Damon isn't afraid to swing for the fences when it comes to defending his friend President Donald Trump.
When Damon returned to "Dancing with the Stars" on Monday night to dance in the finale show group exhibition, he told Fox News he loves the job Trump is doing. And he blasted the president's haters.
The retired Boston Red Sox and New York Yankees star, 44, was eliminated on the first week of the short "DWTS: Athletes" season. Since then, he's been named to the President's Council on Fitness, Sports, and Nutrition.
Damon said backstage at "DWTS" that he is looking forward to visiting Trump in the White House next week to discuss his council duties.
He praised the president, who was his "boss" on NBC's "Celebrity Apprentice" in early 2015. Trump "fired" Damon on the reality show.
"Donald's getting stuff done and hopefully everyone lets him to get to work. Let's take care of the issues we have facing our country instead of continuing to fight him," Damon opined to Fox News.
The baseball great commented on special counsel Robert Mueller's Russian collusion investigation, "Seriously, we're still talking about it? I mean, our country spent millions of dollars already in trying to say something?
"All I know is, I'm going to know who I'm going to vote for. I don't need outside influence from anybody. I think that's the problem. Why are we going to listen to Russia and change our mind about who we're going to vote for?
"We're America, we can think for ourselves and I'm just glad [Trump] continues to do such great work and hopefully, sometime soon, people will actually realize it because he's been appointing women to the top positions in the Army.
"Everyone's trying to bash what he's trying to do and I love what he's doing."
Damon continued, "He's a great guy. I think everyone expects a president to be your friend. That's what [Former President Barack] Obama did, and it was so great that he was in touch with the people everywhere, but Donald Trump's trying to get America to run the right way, and he's been doing it. He's there to do a job, and that's to get our country back on the right track."
Damon said, "I feel like most people are in the middle. There's people on the far left, far right. I'm in the middle and I believe most of America is in the middle."
The athlete said he's "so honored" to be put on the board of the President's Council on Fitness, Sports, and Nutrition. He said former football player Herschel Walker, volleyball star Misty May-Treanor and baseball relief pitching hero Mariano Rivera will be leading the government organization, which encourages all Americans to get physically active.
Damon loves promoting fitness and sports.
"I have eight kids, so I'm on top of it every day," he said with a smile.
The former MLB great isn't afraid to try new activities himself, giving dancing a shot with "DWTS" pro partner Emma Slater.
He didn't last long on the four-week all-athletes season that ended on May 21. But Damon enjoyed the experience and said he sensed right away that Adam Rippon would win the mirror ball trophy, which he did on Monday night.
"An ice skater [already] has the moves, the hands," Damon noted. He and Slater "knew he was going to be a tough one to beat."