Jodie Sweetin grateful to be back home on 'Fuller House'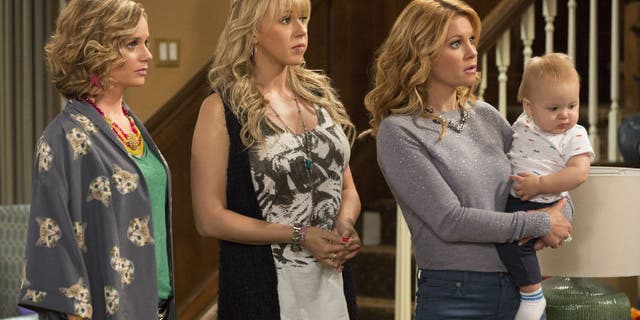 PASADENA, Calif. – It was a homecoming when the "Full House" cast convened to film the first episode of Netflix's reboot of the series, "Fuller House," on an almost identical set to the original. And while it may have been two decades since the actors had set foot in the Tanner household, it wasn't the first time they had seen each other in the intervening years.
"We have stayed so close," says Jodie Sweetin, who is reprising her role as middle daughter Stephanie Tanner. "But working together again without missing a beat… it was the same jokes and the same things that we shared. It was like, 'Oh, I know this. This is home.'"
The set wasn't the only thing that was familiar. The premise of the show is pretty much the same, but with a gender twist. In "Fuller House," Candace Cameron-Bure, playing D.J. Tanner-Fuller, is a veterinarian with three sons, one an infant, who is overwhelmed by the responsibility of raising her boys without their father. So, this time around, the three women -- D.J., Stephanie and best friend Kimmy Gibbler (Andrea Barber) -- move in to help raise D.J.'s kids.
"How often does one get to have a 20-year hiatus of a character and then come back as an adult?" Sweetin says. "What I have been able to do in the past few years is gain a lot of life experience and I get to bring that to Stephanie. While we are doing a family sitcom, modern sitcoms do have more back story, life and edge to them. So getting to bring that to Stephanie, is exciting as an adult."
It is no secret that after the series wrapped in 1995, Sweetin underwent a downward spiral, during which she has admitted to using ecstasy, methamphetamine, and crack. She wrote about her real-life story of addiction and recovery in 2010 in unSweetined: A Memoir.
But these days life is good for the three-times divorced mother of two daughters -- Zoie, 7, and Beatrix, 5 -- who is appreciative that she was able to turn her situation around.
"I am doing this amazing series and we are all thrilled to be here," she says. "Regardless of any of [my problems], which has been talked about to death, I think we are really grateful to get to come back to this show. What an opportunity."
Despite firsthand knowledge of the pitfalls for child actors, Sweetin, who brought her girls to the set for tapings, says she would consider allowing her daughters to become actors -- if it was something they really wanted to do.
"My youngest one loves to perform," she says. "She gets up at every taping and dances in the aisle and has a lot of fun. My older one wants to play Max Fuller's girlfriend on the show now, but I think their expectation of what it is and the reality of it would be very different for them. It would probably be a one-off thing. I think they would be, 'This is really hard. We want to go to school.'"
And speaking of school, Sweetin spends some of her off hours visiting college campuses, talking to students about her experiences growing up in show business, about her life after, and where she is at now.
"It's a wonderful opportunity to speak to young people, and not only connect with fans of 'Full House,' but people who have watched me and are at a vulnerable time in their lives, to get to talk to them about all the good stuff, and the interesting stuff, and the ups and the downs that I have been through,'" she tells FOX411. "I feel blessed to be where I am today and share that experience."
Fuller House will be available for streaming on Netflix on Feb. 26.