Joan Jett kicked off of Macy's South Dakota float at Thanksgiving Day parade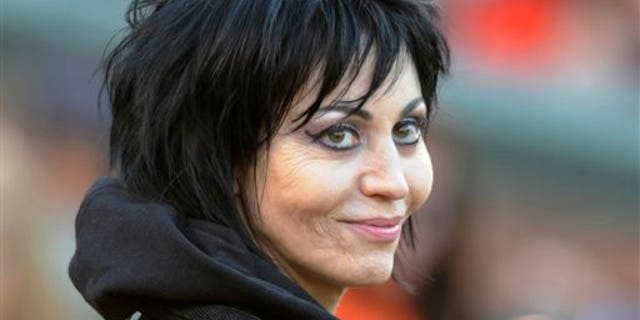 Macy's is moving rocker Joan Jett and her band off the South Dakota tourism float in its Thanksgiving Day parade after ranchers complained about having a vegetarian and animal rights advocate representing their state.
"I've decided to switch from South Dakota to another float because people's political agendas were getting in the way of what should be a purely entertainment driven event," Jett said in a statement released Friday. "I will remain focused on entertaining the millions of people watching, who will be celebrating a great American tradition."
Orlando Veras, Macy's parade spokesman, told The Associated Press on Friday that a new performer for the South Dakota float will be announced later. Veras said that the annual parade in New York City is about entertainment, not advocacy, and that Macy's was making the change "to prevent any further distraction from our entertainment mission."
"The Parade has never taken on, promoted or otherwise engaged in social commentary, political debate, or other forms of advocacy, no matter how worthy," Veras said in a statement. "Macy's intention is only to provide a range of entertaining elements and performers free of endorsements or agendas."
Some South Dakota farmers and ranchers voiced concern about the choice to put Jett on the float because she is a supporter of People for the Ethical Treatment of Animals, which promotes a vegetarian diet and criticizes livestock production practices.
South Dakota Cattlemen's Association President Cory Eich, who farms and ranches near Canova in eastern South Dakota, said Friday that he thinks it was a mistake to select Jett because her stands don't mesh with the state.
"Coming from such a rural state where livestock is such a part of our life, we didn't think it was appropriate," he said.
Eich said his association "didn't go looking for a fight," but once Jett's affiliation with PETA was brought to the group's attention, officials felt they had to respond accordingly.
"I wish it never would have gotten brought out," he said.
Dan Mathews, PETA's senior vice president, said that he's happy with the publicity generated by the controversy.
"Thanks to South Dakota's reactionary ranchers, people across the country have learned why Joan Jett supports PETA," Mathews said. "The meat trade can't stand any scrutiny of its cruelty," he said.
South Dakota Tourism Secretary Jim Hagen has said that many people mistakenly assumed state officials selected Jett to appear on the float. None of the artists the state proposed were available or willing to appear in the parade, so Macy's selected Joan Jett and the Blackhearts, he said.
The state pays $175,000 to support the Macy's Thanksgiving Day Parade and have a float in the event, and $5,000 of that goes to pay expenses for the artist on the float, officials have said.
The South Dakota float, which has appeared each year since 2010, features Mount Rushmore, the Badlands, the Black Hills and more.
Don McLean, the singer of "American Pie," appeared on the float last year. Previous years' entries featured Neil Diamond and Mannheim Steamroller.
More than 3 million people are expected to watch the parade on the streets of New York, with more than 50 million watching the event on television nationwide.