Jimmy Kimmel trolled by street artist Sabo after Hollywood car crash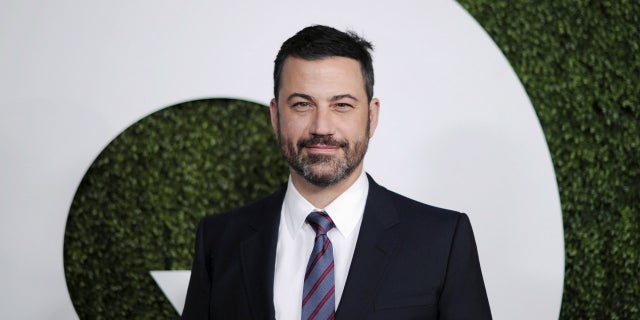 Late night host Jimmy Kimmel found himself to be the punchline of a joke Tuesday after a conservative artist mocked the comedian at the location where he crashed his vehicle.
Sabo, an artist who has hit back at prominent liberal celebrities including Meryl Streep, took credit for placing a sign underneath a "right turn only" traffic sign on the Sunset Strip in West Hollywood.
Kimmel was driving outside the famous Chateau Marmont Hotel when he made an illegal left turn, ignoring the traffic sign. The comedian crashed his car into a passing Audi. No one was injured in the accident.
JIMMY KIMMEL WRECKS CAR IN HEAD-ON COLLISION ACCIDENT
The conservative artist decided to make Kimmel the butt of the joke and place a sign directly under the other apparently ignored by Kimmel, according to The Hollywood Reporter.
The sign read: "This includes idiot comedians."
Sabo told The Hollywood Reporter he targeted Kimmel due to comments he made on "Pod Save America." Kimmel told the podcast hosts that "pretty much every late-night talk show (host) is a liberal. And that's because it requires a measure of intelligence."
Sabo said Kimmel apparently was not using his intellect during the time of the crash.
MERYL STREEP POSTERS CLAIMING 'SHE KNEW' ABOUT HARVEY WEINSTEIN POP UP IN LOS ANGELES
"Obviously, his intellect wasn't so sharp as to keep him from nearly killing someone," Sabo told The Hollywood Reporter.
Kimmel has been the target of Sabo's attacks previously. In October, the artist put pictures of Kimmel on bus stop benches calling the host a "cry baby" and dubbed his show "Estrogen Hour."
Kimmel hit back by snapping a photo of himself on the bus bench with his middle finger up. He has not immediately commented on the fake traffic sign.