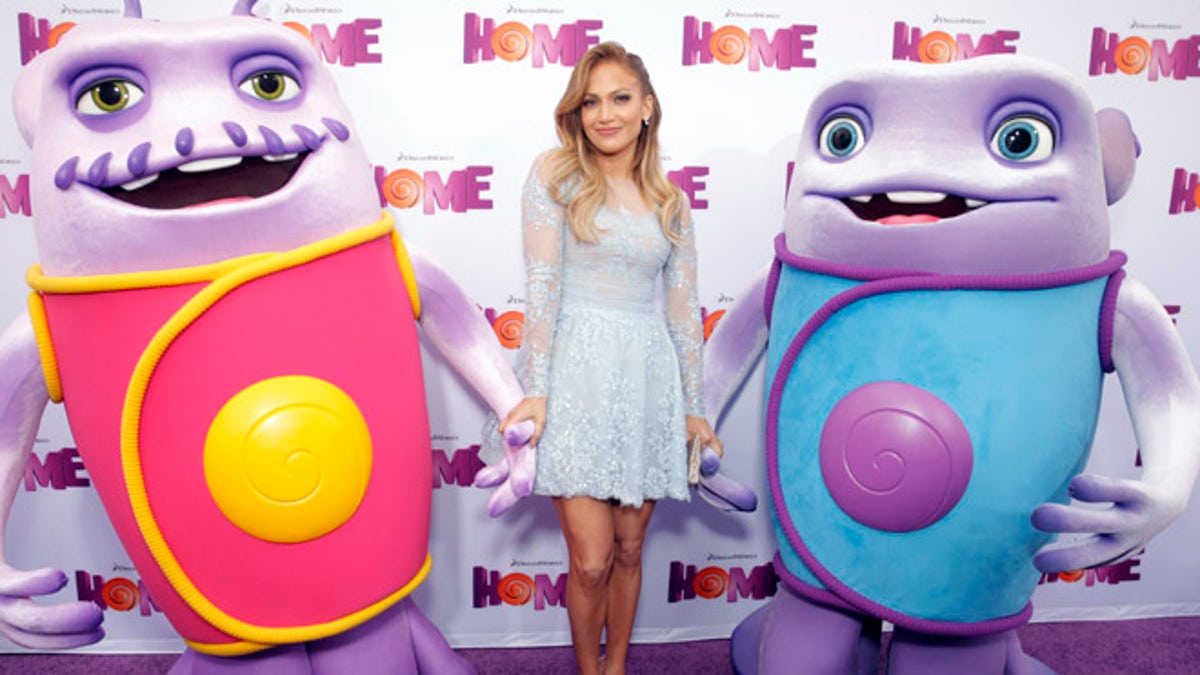 NEW YORK (AP) – Business was brisk at the weekend box-office, where the DreamWorks animated alien adventure "Home" beat out the Will Ferrell-Kevin Hart comedy "Get Hard" with a resounding debut of $54 million, according to studio estimates Sunday.
While the two films had been expected to vie for the top spot at North American theaters, "Home" came in well above expectations, handing DreamWorks Animation a much-needed hit. Though a distant second, "Get Hard" also opened strongly with an estimated $34.6 million, rewarding the Warner Bros. pairing of two of the most bankable stars in comedy.
Last week's top film at the box office, the young-adult sequel "The Divergent Series: Insurgent," slid to third with $22.1 million.
With a $100 million-plus debut expected next weekend for "Furious 7" — a franchise built on street racing adrenaline and a diverse cast — Hollywood scored with two films that sought a variety of audiences.
"Get Hard" united the fans of Hart and Ferrell, albeit while finding some criticism for its racial humor. And "Home" is the rare animated film led by an African American girl character (voiced by Rihanna). She plays a teenage girl left alone after an alien invasion of Earth. Jim Parsons, Jennifer Lopez and Steve Martin round out the cast.
"It's a diverse cast and we drew a diverse audience, which I think is really special and something you don't see in animated films," said Chris Aronson, domestic distribution head for 20th Century Fox, the film's distributor. "That just ends up broadening the appeal of the film."
More than half of the audience for "Home" was African American, Hispanic or Asian, according to Fox. The strong performance of an original release, based on a children's book by Adam Rex, provides Jeffrey Katzenberg's DreamWorks with a welcome lift. After a series of box-office disappointments, the studio cut about 500 jobs earlier this year.
Aronson called the success of "Home" ''indicative of the direction, quality-wise, that DreamWorks is going to get back to." One of the film's producers, Mireille Soria, was in January named co-president of DreamWorks Animation, along with "How to Train Your Dragon" producer Bonnie Arnold.
Despite the lure of March Madness on TV screens, "Home" (which capitalized on the relative dearth of family-friendly options) and "Get Hard" drove moviegoers to theaters. Overall, the box office was up about 8 percent from last year, according to box-office data firm Rentrak.
"Get Hard" had been dogged by controversy, as some questioned the tastefulness of humor that critics called homophobic and racist. The directorial debut of Etan Cohen, it stars Ferrell as a hedge fund manager sentenced to a maximum security prison for fraud. To prepare for life in prison, he turns to the only black person in his orbit, a family man played by Hart.
"When Will Ferrell and Kevin Hart get together, you hope to have some criticism," said Dan Fellman, head of domestic distribution for Warner Bros. He added that it's the biggest R-rated opening for both Hart and Ferrell.
The wild card of the weekend was "It Follows," a critically acclaimed indie horror film from Radius, the Weinstein Company label. After the film drew packed theaters in limited release, plans for a subsequent video-on-demand release were postponed and "It Follows" expanded to 1,218 theaters over the weekend.
"It's an interesting test case," said Paul Dergarabedian, senior media analyst for Rentrak, who applauded Radius for having the confidence in a small, very low budget movie. "It's rare for a horror film to enjoy those kind of reviews. Ordinarily, you don't see a platform building of theaters for a horror movie. Usually, you see them drop like a rock in the second week."
Estimated ticket sales for Friday through Sunday at U.S. and Canadian theaters, according to Rentrak. Where available, the latest international numbers for Friday through Sunday are also included. Final domestic figures will be released Monday.