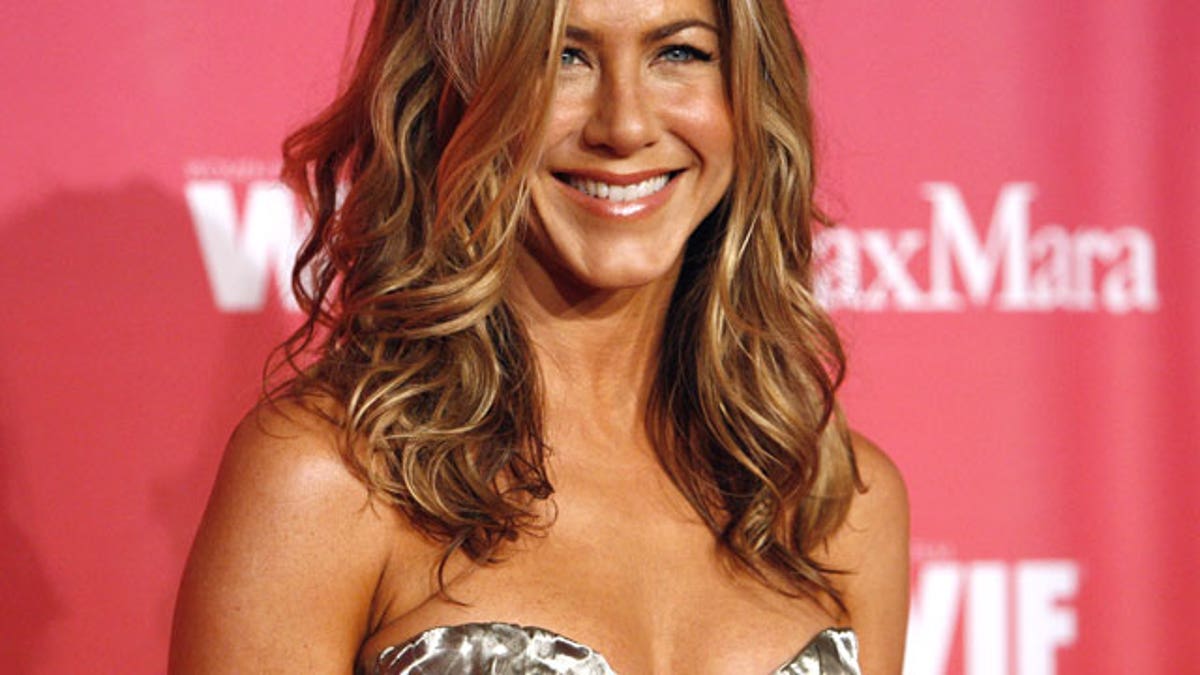 Jennifer Aniston is America's unstoppable sweetheart, with comedic charm and girl-next-door good looks that just get better with age.
Despite the many personal downs the 41-year-old has dealt with (yes, Brad Pitt and John Mayer we're talking to you!) the former sitcom star continues to successfully cement herself as an A-list movie star, avoid public meltdowns, and always appear stunning and stress-free amid an industry notorious for romps to rehab and bizarre behavior (yes, Britney Spears and Lindsay Lohan, we're talking to you!).
So what are Aniston's Top 5 secrets to sexiness and success? Pop Tarts talked to the people who keep Aniston looking amazing and driving down the road to success.
1. Her Hair
Seventeen years ago, six months before filming the "Friends" pilot as the lovable Rachel Green, a then relatively unknown actress with a head of medium brown curls turned to Michael Canale to tend to her tresses. The world-renowned colorist "popped the front up" with highlights, while uber-stylist Chris McMillan played around with his scissors in what was to become "The Rachel."
Ever since, Aniston is considered a Hollywood hair icon.
"We then moved her into the caramel girl, then the golden girl and now she's sandy beige blonde," Canale told Pop Tarts. "Jen's just so comfortable in her skin, that's why everyone is so interested in her – and I think her sandy look right now is the prettiest of them all. It's the hardest to keep, but the sun can usually keep it vibrant."
According to Canale, there is no base color and instead it involves subtle highlighting techniques, which he allegorizes with "painting the golden gate bridge." Apparently Aniston is one of his "easier clients" who breezes in and out for 20 minute touch-ups when necessary.
And she is quite the loyal "Friend" – since 1993 Aniston's mane has been, and continues to be, at the mercy of Canale and McMillan. Inspired by their work with the starlet and growing reputation for creating "beachy, beautiful" looks, the dynamic duo recently opened their first salon together, Safire McMillan Canale, in the "beachy, beautiful" location of Malibu, California.
2. Her Brows
Speaking of loyalty, Aniston has been turning to the same woman to pluck and perfect her brows for over a decade: Anastasia Soare of Anastasia Beverly Hills. And she's in good company – we hear the likes of Madonna, Oprah, Jennifer Lopez and Reese Witherspoon are Anastasia regulars too.
"I have been doing this a very long time, most of the A-List celebrities today were my clients when they were auditioning years ago still trying to get a break," Soare told us.
And when you're the ex-wife of Brad Pitt making a living starring alongside the likes of Gerard Butler, keeping up appearances is crucial.
"In Hollywood image is everything, and stars are a brand. People look to them for the best in brows, hair, makeup, clothing and jewelry," explained Soare. "Brows are just as important to framing the face and balancing your features as any eye shadow, and one cannot be done without the other, that's why I always consider brows part of your beauty ritual."
So if you want some words of wisdom from the woman in charge of Aniston's sculptured arches – listen up.
"The right brows always should start with more. Don't tweeze your brows daily and expect a makeover when you walk into a salon as you might not have enough to work with," Soare said. "Choose a brow shape that compliments your face, and a color that is balanced with your hair and skin tone. Even if you make your hair pink, your brows should always maintain a natural hue to compliment and balance your face."
3. Her Bod
Or should we just call it THE body? For years, Aniston's tight and toned physique has been a source of fascination, as she continues to defy nature's law of aging to look stronger and leaner in each new film. So what is Jen's secret? Well actually, it's a "she" - L.A-based "Yogalosophy" creator Mandy Ingber, who Jen has been having private sessions with for the past six-and-a-half years.
"When I started doing yoga with Mandy, I noticed many things. My legs getting leaner. My arms getting stronger, and most importantly, I noticed an inner strength," Aniston wrote as a testimonial on Ingber's website. "Mandy's yoga is unique, because she allows the student to discover what 'yoga' is and means to them. I feel like I am getting a meditation, a workout, and time with my friend, all rolled into one hour."
Ingber's approach isn't targeted toward dramatically transforming one's figure; instead she encourages her students not to wait for perfection to love their body. Combine this positive messaging with regular yoga practice (three-to-five times per week) in addition to cardio workouts – and the physical benefits should flow naturally, she says.
And even more good news? One can (at least attempt) to get an Aniston-esque body without leaving their living room, thanks to recent release of Ingber's Yogalosophy DVDs.
4. Her Face
When you're a multi-millionaire like J.A, you can afford the most expensive skin care brands around, and get highest of high-end products thrown your way, for free, long before they've even hit the shelves. So how does Aniston keep her face silky smooth and seemingly flawless?
A plain old bar of Neutrogena soap.
Aniston uses the brand's famous transparent "Amber Bar," a beauty staple since the 1950s, which "gently cleanses the skin and returns it to its natural pH level just minutes after washing." The star started using the soap as a teenager, and once again, the loyal "Friend" has stayed true to her pre-fame-and-fortune roots.
5. Her Future
Sometimes we don't quite know what we do want, or don't want, or where we want it or how to get it. Well, Jennifer Aniston isn't one to wait around in the hope that all the confusion will somehow sort itself out. Oh no, this gal takes the proactive approach and from time to time consults with an Intuitive Life Strategist like Suzannah Galland, who has worked with everyone from Demi Moore to Gwyneth Paltrow to Cindy Crawford.
"I have a very powerful, even laser-sharp intuition. I've had it all my life," Galland explained. "I can sit with a person and, almost as if I'm taking their temperature, give an accurate reading as to what most concerns them, and the likely outcomes. I help my clients make plans, or see what the people they're involved with are planning for them. I help a person clear a path in their life."
It's no surprise Galland is on the speed-dial of a slew of Hollywood power players, because even when one appears to be living the high life in the reel world, a fluff-free professional grounding them in the real world works wonders.
"What they [celebrity clients] are looking for is someone to trust. Because they're on top, everybody around them is agreeing with them – they've forgotten how to access their own instincts. Their problems are very different from what most people face," Galland told Pop Tarts. "Their fears of failure are also more intense than most other people's. After all, having attained such heights, they have farther to fall. How might they renew themselves, do more, regain a trust in their own impulses to excel and surpass? I strive at all times to be truthful – to be that voice that gives strength to the intuitive good judgment that is already there inside them, but which has been buried by the fog of being famous."