Jada Pinkett Smith shares Whitney Houston throwback photos: 'She was so down to earth'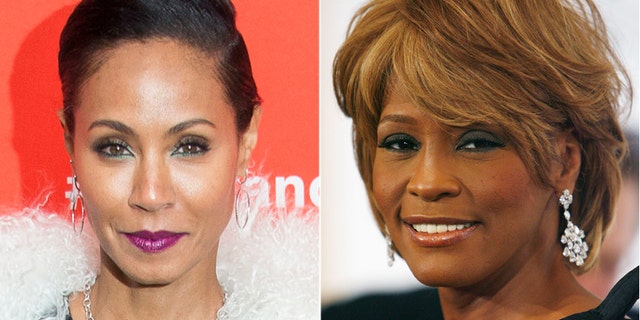 Jada Pinkett Smith shared rare photos of her "sweet" yet "fierce" friend Whitney Houston on Instagram Wednesday, adding that they're the only ones she has of the late singer.
Smith, 46, said the three snapshots were taken nearly two decades ago — when she was pregnant with her son, Jaden, now 19. In the photo collage, the pair can be seen laughing and chatting.
"She came to my baby shower," Smith explained. "Whitney was so sweet, so fierce ... so real. She was funny and fun and so ... present."
"As talented and famous as she was ... she didn't wear it on her sleeve. Not many of us in this business can claim that."
Smith continued, "As talented and famous as she was ... she didn't wear it on her sleeve. Not many of us in this business can claim that ... not even myself at certain points in my life."
WHITNEY HOUSTON'S EX-BOBBY BROWN WANTS TO 'SLAP' KANYE WEST FOR PUSHA T'S 'DAYTONA' ALBUM COVER PHOTO
In a 2012 Facebook post, Smith revealed that she was in Costa Rica when she heard about Houston's tragic death.
Houston was found unresponsive in a Beverly Hilton hotel bathtub by members of her entourage on Feb. 12, 2012, and pronounced dead soon after. The L.A. coroner's office listed drowning and "effects of atherosclerotic heart disease and cocaine use" as the official causes of death on her autopsy report.
Smith said she admired Houston's "down to earth" personality and said she is still missed. The Instagram post garnered nearly 210,000 likes as of Thursday and thousands of comments from fans across the world.
"How lovely .. such kind words... she was lucky to have you as a friend," one Instagram user wrote.
"Her talent will never be exceeded, so important for mine and all generations," another added.
'WHITNEY' REFLECTS ON HOW THE SINGER'S ICONIC 1991 SUPER BOWL NATIONAL ANTHEM CHANGED AMERICA IN THE HEIGHT OF THE GULF WAR
"My idol. My heart still hurts," a fan replied.
Fans thanked Smith for sharing and told the actress to "treasure" the only photos she has of the music icon.
A new "Whitney" documentary will hit theaters July 9. Filmmaker Kevin Macdonald told Fox News in late June that Houston's powerful National Anthem performance at Super Bowl XXV was "one of the things that hooked" him into doing the film.