'It's Always Sunny in Philadelphia' cast discusses Season 13's 'Time's Up' Episode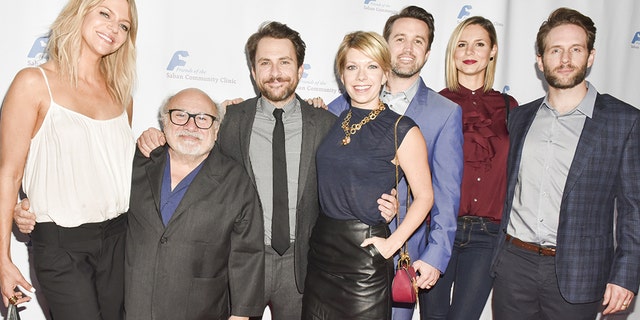 "It's Always Sunny in Philadelphia"'s 13th season is getting topical with episodes that take on the Time's Up movement against sexual harassment, as well as the broader Women's March for female rights and gay pride.
"I'm just glad that we [explored Time's Up], and made a comedic take on it. This show's so amazing to me because if you're not paying attention, you're just entertained and it's really funny. If you are paying attention it's really funny and smart and we're making social commentary," star Kaitlin Olson told Variety at the premiere event Tuesday.
Olson said she was impressed when she read the episode's script because she loved that Dee never takes the stance people think she should, but her efforts don't pan out the way viewers expect.
This fourth episode of the season, entitled "Time's Up for the Gang" is hardly the only topical tale they're telling this year. Additionally, Olson said she was excited for the "all-female reboot episode" of the 10th season episode "The Gang Beats Boggs."
In this new version, Dee (Olson), Artemis (Artemis Pebdani), the Waitress (Mary Elizabeth Ellis), and Mac and Charlie's moms (Sandy Martin and Lynne Marie Stewart, respectively) will try to beat the record as they fly to Los Angeles to attend the Women's March.
Executive producer and star Rob McElhenney said Dee ends up being "just as terrible as the men are in the show" despite her activist efforts.
The FXX comedy ended its 12th season in 2017 with Dennis (Glenn Howerton) moving to North Dakota to raise his son, and in the new installment the gang has to fill the void he left — but not for long. Although Mindy Kaling guest stars in the season premiere to help "make Paddy's great again," according to the episode title, Howerton does return — first in sex doll form when Mac purchases the custom item to "fill the Dennis-shaped hole" in his life.
"It's disgusting. It's very creepy to have a sex doll that looks like you on national television, for your mommy and daddy to see and your wife — and one day your kids," Howerton admitted.
Last season Mac also finally accepted his sexuality, and McElhenney revealed that his character will be "screaming, exploding out of the closet" this year.
McElhenney said he "worked for five months to do three minutes of work" for a pivotal scene in the season finale in which he performs a choreographed, interpretive dance to come out to his father.
Another big moment for Mac, as well as the rest of the gang, comes with the Philadelphia Eagles winning its first Super Bowl. Ellis, whose character goes back and forth between her sobriety and her obsession with Charlie this season, said it was great to see characters bond over a shared victory.
"Rob and Kaitlin were there [at the Super Bowl] and it was so exciting and it felt like a real moment of the city coming together," Ellis said.
"You know when you have those feelings of being around people where everyone's cheering for the same things and it's such a beautiful, moving human experience so I think that's what they wanted to make happen."
After taking a break for a year, Howerton said they felt renewed energy and had "the most fun we've had working on the show for a very long time."
The series has also been renewed for a 14th season, and both Danny DeVito and Howerton expressed enthusiasm for keeping the show going. "We could do that standing on our ear," DeVito said.
"We're going to keep doing this show forever. If we get the right longevity doctor, we'll see. We'll keep doing this show as long as FX [Networks] lets us, and as long as we don't start fighting with each other and hating each other," Howerton said. "Right now we're still having fun and making each other laugh and we love each other and it hasn't ruined our marriages."
Margeaux Sippell contributed to the reporting.