Italian director Garagnani dons 'Weinstein is innocent' t-shirt on red carpet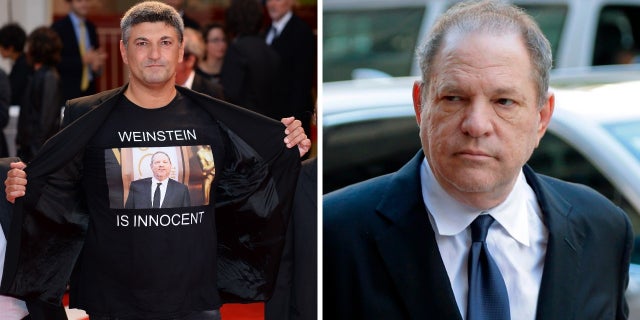 Italian director Luciano Silighini Garagnani turned heads Saturday with his red-carpet wardrobe -- a T-shirt expressing support for disgraced Hollywood mogul Harvey Weinstein.
Garagnani, 42, sported a homemade "Weinstein is innocent" shirt at the world premiere of Amazon Studios' "Suspiria" at the Venice Film Festival. The director paired the shirt with faded jeans and a black jacket at the black-tie event, the Daily Beast reported.
CNN PULLS ASIA ARGENTO'S EPISODES OF ANTHONY BOURDAIN'S 'PARTS UNKNOWN'
Venice Film Festival chief Alberto Barbara told Deadline that Garagnani's T-shirt stunt was "a stupid move."
More than 75 women have accused Weinstein, who was one of the most powerful men in Hollywood, of some form of wrongdoing. Allegations first detailed in Pulitzer Prize-winning stories last October in The New York Times and The New Yorker magazine swelled into the #MeToo movement.
Several actresses and models have accused Weinstein of criminal sexual assault, including Italian actress and filmmaker Asia Argento, who became one of the most prominent voices in the #MeToo movement. Los Angeles authorities announced last month they were looking into sexual assault allegations by a young actor against Argento.
RONAN FARROW EX-PRODUCER SAYS NBC TOLD THEM TO STOP REPORTING WEINSTEIN STORY
Weinstein was indicted by a Manhattan grand jury on rape charges in May. The Los Angeles Police Department and authorities in London are currently investigating allegations against Weinstein, according to the Hollywood Reporter.
The Associated Press contributed to this report.