'It: Chapter Two' to hit theaters in September 2019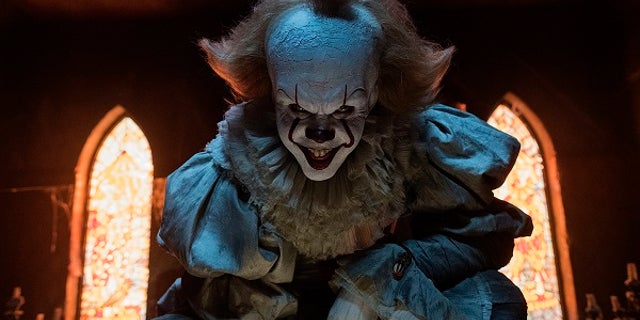 The second chapter of the horror film "It" is slated to hit theaters on Sept. 6, 2019, Warner Bros. and New Line Cinema announced Monday.
The blockbuster film, based on Stephen King's 1986 novel of the same name, was released on Sept. 8, and was the No. 1 movie in America until "Kingsman: The Golden Circle" dethroned it last weekend.
'IT' BECOMES TOP-GROSSING R-RATED HORROR FLICK OF ALL TIME
The movie has become the highest-grossing horror film of all time, not accounting for inflation, with $266.3 million thus far. 1973's "The Exorcist" grossed $232.9 million domestically, or more than $1 billion in 2017 dollars.
Gary Dauberman, a screenwriter for the film, has signed on to write the sequel. The film's director, Andy Muschietti was rumored to return to the sequel as well.
'KINGSMAN: THE GOLDEN CIRCLE' DETHRONES 'IT' AT BOX OFFICE
The film focuses on a group of young children who work together to fight the monster of their town Derry, Maine.
The first chapter focused on the children's battle with the demon. The 2019 sequel would focus on the children in present day as adults coming together to battle the monster again.
The novel, which is more than 1,100 pages long, received a television miniseries adaption in 1990.
The Associated Press contributed to this report.