Infamy Revisited: What Happened to Ashton Kutcher's Alleged Affair Sara Leal?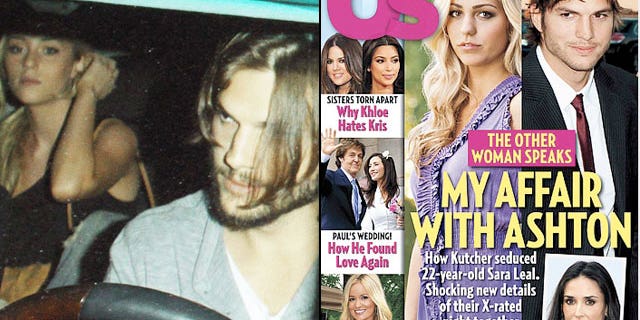 Ashton Kutcher looks like he's been living it up since allegations of an affair wrecked his six-year marriage to Demi Moore.
The "Two and a Half Men" star has been hitting the town in Los Angeles and last week flirted shamelessly on the red carpet with his "New Years Eve" co-star Lea Michele.
Things haven't been so rosy for the woman at the center of his alleged affair. Sara Leal, 22, tells Fox411.com that her life became a living hell after she hooked up with Kutcher, 33. She lost her job working as an administrative assistant with a company that represented homeowners in filing claims against their insurance companies, and was kicked out of her apartment. Only now, two months later, is she putting all the pieces of her life back together.
"I got fired from my job. I am no longer friends with my best friend who was my roommate because it caused so many problems and I had to move out," Leal tells Fox411.com. "I wasn't working for two months, and I only just started working three weeks ago. I had no idea what I was getting myself into."
Leal became infamous in September when the news broke that she allegedly had unprotected sex with Kutcher after an all-night party in his suite at San Diego's Hard Rock Hotel. Their reported dalliance took place on the actor's six-year anniversary with Moore, 49.
Leal told US Weekly magazine that she and the actor were joined by another young woman for a nude dip in Kutcher's hot tub where the actor told her he was separated from his wife.
She claims she didn't even know he was married until a friend brought it up.
Infamy Revisited: What Happened to Tiger Woods' Porn Pal Josyln James?
"I don't watch television and I read very few magazines. It never crossed my mind that he was married. But then he said he was separated, which still doesn't make things okay, but I wasn't thinking clearly," Leal said. "He was a good looking guy and it was stupid. When people say to me 'I can't believe you did that' I want to say back that most 22-year-old girls in my position would have done the same thing."
Asked whether she would have romped with the actor knowing what she knows now about the effect it would have on her life, Leal says: "No way!"
"It was insane. I had no idea what I was getting myself into," Leal said. "It might have seemed like I was asking for it, but I wasn't. My dad wouldn't even talk to me, and I got a lot of disturbing phone calls, even from my friends' parents."
Leal was further embarrassed when her former friends leaked pictures of her partying in Las Vegas to the tabloids.
"Those made me look bad and everyone who knows me on a personal basis knows I am not a crazy slut party girl," she said. "I've had one boyfriend since I lived in San Diego, and those pictures were one weekend out of my life that painted the worst image of me ever. I was a mess for two weeks straight it was so horrible."
But things have since died down. Kutcher has moved on and is going through divorce proceedings with Moore. Most people don't even remember the name of the young woman who was splashed all over the tabloids for a month straight, which Leal says she is happy about, since she just wants her life to go back to normal.
She recently started working again as an executive assistant at a real estate development company in San Diego. She is also training to be a yoga instructor.
"I want to open my own studio eventually," Leal said.