In seeking sole custody, does Katie Holmes need evidence Tom Cruise is dud dad?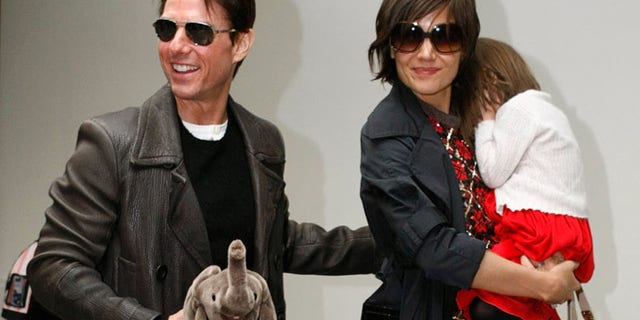 LOS ANGELES – Katie Holmes apparently surprised everyone -- even Tom Cruise -- when she filed for divorce from her husband of five years last week. The Oscar-winning actor was reportedly "blindsided" when he was informed she had filed anonymously in New York on Thursday.
Adding insult to injury, Holmes is also reportedly seeking full legal custody and primary residential custody of their 6-year-old daughter, Suri.
TMZ reports Cruise's allegiance to the Church of Scientology was ultimately the "breaking point" for Holmes, who allegedly did not follow the religion with his same level of devotion. According to attorney Lois Liberman, Partner at Blank Rome LLP, one of the largest matrimonial practices in New York City, this may be a prominent reason Holmes is seeking full custody rather than joint.
"I would surmise that Katie maintained a residence here in New York and did her best to maintain Suri's closest connections to New York for the past six months -- schools, doctors, etc. -- because she wanted to maintain some distance from Tom," Liberman told FOX411's Pop Tarts column. "If it is shown that Katie is not as taken with the Church of Scientology as her husband, Tom, then I think that there is a strong likelihood that Katie would file for sole custody rather than joint custody. As an example, when it comes to medical decisions for Suri, which involve medication or therapy, I would think that Katie would rather follow the recommendations of a medical doctor or therapist rather than the teachings of Scientology, which are often vehemently opposed to psychiatry and psychology and medication."
[pullquote]
Liberman also noted that Cruise's deep ties to the Church could potentially provide Holmes with "an excellent chance" of being granted her custody request.
"Not because there is a bias against his religion, but that he would rigidly apply the tenets of Scientology in making decisions regarding Suri rather than taking the child's best interests into consideration," Liberman explained.
But the former "Dawson's Creek" star will have to provide extensive evidence as to why Cruise is unfit. Does Holmes have some more surprises up her sleeve?
"It is extremely unusual (to seek sole custody). The statute is 'best interest of the child' and unless she can show some kind of outrageous and dangerous behavior by Mr. Cruise, she is not going to get it," explained leading L.A divorce attorney and former Chairman of the California State Bar of Custody, Mike Kelly. "People seek child custody, typically, so that they will be in control of the children. My professional opinion after 42 years of doing custody cases, is that she will lose."
Litigator Anahita Sedaghatfar says the legal system in New York, where Holmes filed, is more likely to grant sole custody than the California courts.
"It will have to be a strong showing because courts prefer joint custody when both parents are considered fit, as this is best for a child – to have both parents. It's hard to say what the court will do without knowing what the evidence is that Katie has to support request and show that he is unfit," she explained. "But courts in New York are more likely to grant sole custody than California courts. I expect Tom will immediately move to have the divorce proceedings held in California and argue that New York has no jurisdiction."
In any case, legal experts predict that what will come will be anything but sweet and simple.
"This can get very ugly, especially if Tom decides to fight Katie on this, which I assume he will since he would likely want to be an active participant in his daughter's life," Sedaghatfar added. "If a divorce was amicable, the parents would agree to joint custody, which means both parents have the right to make major decisions regarding their children. So there is really something going on here."
Reps for Cruise and Holmes did not respond to a request for further comment.