'Idol' recap: Another wannabe bites the dust, Philip Phillips urged to make moves on JLo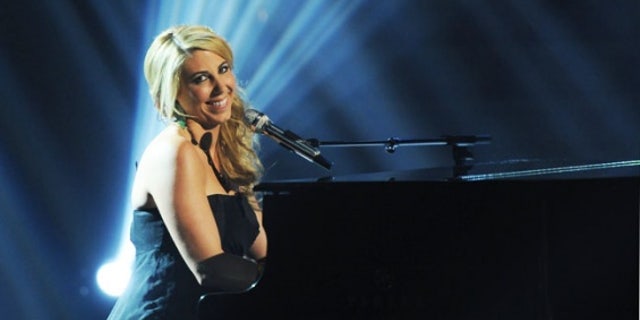 NEWYou can now listen to Fox News articles!
LOS ANGELES – "Another one bites the dust..." read one of the title cards on the "American Idol" results show on Thursday night.
Written in the same font as Led Zeppelin's logo, it was a harbinger of things to come, as less than an hour later, classic rocker Elise Testone learned that she had been voted off the show.
"I believe she picked the wrong Queen song," mentor Jimmy Iovine said of Testone's choice to sing "I Want It All." "She picked sort of a monotone stadium anthem...It didn't move me, I wouldn't hit rewind, I didn't want to see it again."
Iovine added that Testone "doubled down" on her poor song selection by singing Jimi Hendrix's "Bold As Love."
"Elise has a problem. She's a great singer who made bad choices."
When host Ryan Seacrest gave her the bad news, Testone did not look particularly surprised. Doing her best to smile, the 28-year-old vocal coach from South Carolina sang her signature song, Led Zeppelin's "Whole Lotta Love" to close the show.
Joining Testone in the Bottom Three was Hollie Cavanagh, who performed a well-received rendition of Miley Cyrus' "The Climb." Despite the praise from the judges, Cavanagh narrowly escaped elimination.
Country girl Skylar Laine also landed in the Bottom Three, but was quickly declared "safe" by host Ryan Seacrest and sent back to the couch to join the other contestants.
Phillip Phillips, who Iovine criticized as "lacking in energy," easily sailed in to the Top Three despite not feeling well.
Perennial judges' favorites, Jessica Sanchez and Joshua Ledet, both earned a healthy share of the 58 million votes cast by "American Idol" fans and were safely in the Top Three.
Before the final results were announced, the show featured a performance by the Queen Extravaganza, a tribute band with members hand-picked by the surviving members of Queen, Roger Taylor and Brian May.
The new band not only has musical chops, but they actually physically resemble the members of the original Queen, circa 1975. The lead singer, Freddie Mercury 2.0, eerily mimics the late showman–right down to his toothy overbite.
The "Idol" hopefuls also paid a visit to TMZ's newsroom for "media advice," including the nugget suggesting that Phillip Phillips should capitalize on Jennifer Lopez's admitted attraction to him. One TMZ employee helpfully pointed out that "it has worked out for a bunch of other guys."
"One name," added another TMZ employee. "Casper Smart!"
Surrounded by a bevy of S.W.A.T. team-inspired dancers, Katy Perry performed her hit, "Part of Me," in abbreviated fatigues, knee pads, and purple hair.
Season Ten contestant Stefano Langone returned to sing his debut single, "I'm On a Roll," while fellow Season Ten favorite Casey Abrams gave advice to the new crew, telling them to "watch for pranks" when they head out on tour this summer.
Up next: The Top Five perform.