'Idol' Producer Jokes About Jennifer Lopez's Diva Demands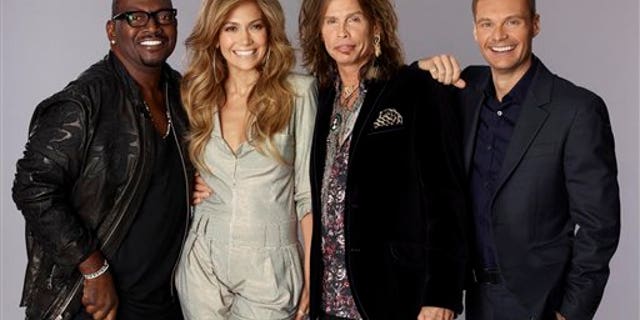 NEWYou can now listen to Fox News articles!
After weeks of speculation, it is officially official - Randy Jackson will be joined by music legends Steven Tyler and Jennifer Lopez to judge the 10th season of "American Idol," the first season without the show's pivotal draw card, Simon Cowell.
According to multiple reports, Lopez's multi-million dollar deal almost didn't go through as a result of her "diva demands" -- rumors FOX executives shot down.
That didn't stop Idol's executive producer Nigel Lythgoe from questioning the 41-year-old pop princess a little further during the press conference following the judges' unveiling in Los Angeles on Wednesday morning.
"We heard this morning she only likes yellow M&M's, and I thought, 'who are we going to get to pick them out for her?'" Lythgoe said.
However, Lopez brushed off such a hearsay.
"I'm kind of used to it, I was the one calming the FOX people down [amid all the diva reports], telling them it was okay," Lopez laughed.
There didn't seem to be any tension among the new panelists and host Ryan Seacrest, as they all laughed and joked together throughout the Q&A session. It doesn't sound like we can expect too many Cowell-esque caustic comments directed toward contestants this season, either.
"I believe in tough love but I could never be cruel to another artist," Lopez said, while Jackson added that they will all probably have both "tough" and "nurturing" moments.
Speaking of Simon, Lythgoe was confident that "Idol" will continue to become bigger and better even without his ever-entertaining presence, and that the three new judges will provide the same fresh dynamic that made Season One so successful.
"Back then we had Randy who was in love with the music, Paula who was love with the contestants and Simon who was in love with himself," Lythgoe said, while Jackson chimed in that Seacrest, too, was "in love with himself."
Lopez is murmured to have sealed her deal for just over $12 million, and gushed about how excited she is to be taking the next step in her ever-evolving career. She is also elated that for the first time, she and hubby Marc Anthony can actually stay put in Los Angeles for six months and live a relatively "normal" existence with their young family, thanks to the show.
Tyler's Aerosmith "spouses," however, had mixed reactions.
"I've been married to the band for 40 years. At first they were jealous as they heard it through the press, not me," Tyler said. "But they've been judging me every day. I'm sure they are happy for me. Now I can move to L.A. and get a house and have tea with Jennifer!"