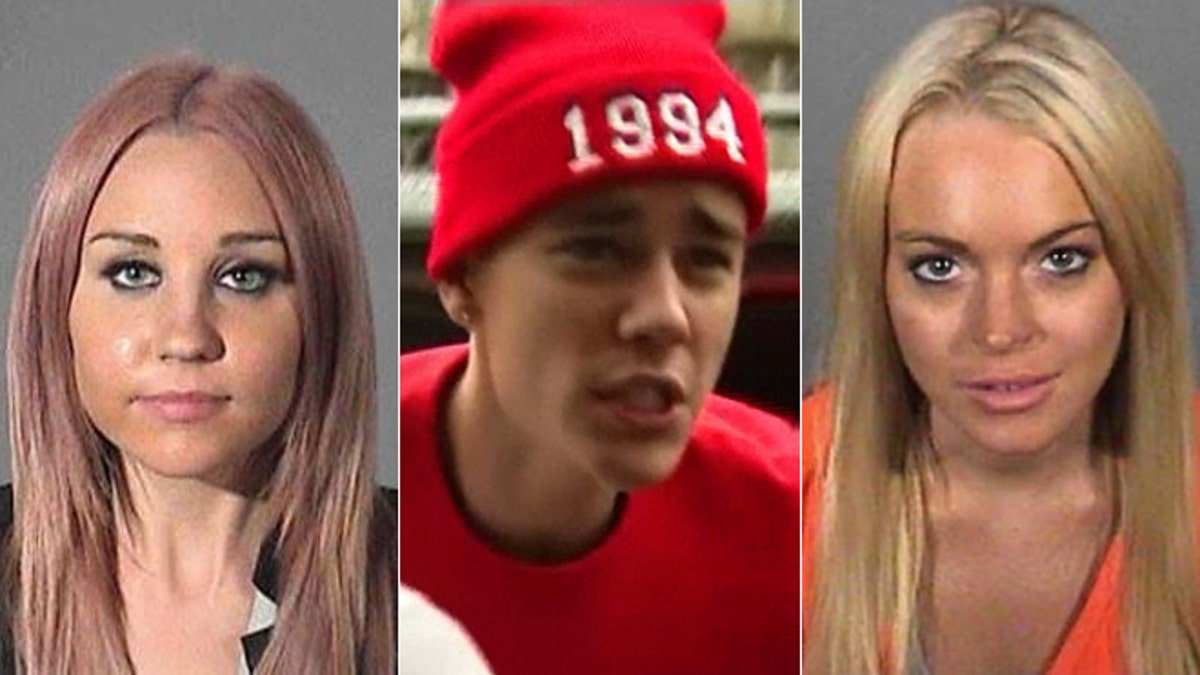 LOS ANGELES – Aside from growing up under the glare of the Hollywood limelight, what do Justin Bieber, Lindsay Lohan and Amanda Bynes all have in common? They consistently make headlines for their woes behind the wheel.
For example, take 19-year-old Justin Bieber. Last week, his driving garnered police attention after he was said to have pinned a photographer between his white Ferrari and a parked Audi outside Sunset Boulevard's Laugh Factory. According to multiple reports, the pop prince drove away before the LAPD arrived to take down a report. Police have since cleared Bieber of hit-and-run charges, however the pop star is no stranger to driving drama.
Sources close to the Biebs have reportedly advised him not to drive, but he won't listen. Last month, police were called to his home after neighbors complained he was driving his Ferrari at highway speeds through their prestigious community, and prosecutors were also called to investigate an incident in March after a different neighbor complained about his erratic driving. Earlier this year the Biebs was stopped by police for driving at more than 100 miles per hour on the Ventura freeway.
"Justin has so far been really lucky he hasn't hurt himself or someone else or gotten into a bad accident," a source close to the singer told FOX411's Pop Tarts column. "But it's only a matter of time."
So are celebrities generally worse than the average driver, or is it just that their fender benders are highly publicized?
"Celebrity drivers are much worse than the average person because they are so entitled and so spoiled," said L.A.-based legal expert Wendy Feldman. "Many do nothing for themselves, but still insist on driving."
Joining Bieber in the ranks of bad Hollywood drivers is, of course, Lindsay Lohan, whose troubles first began in 2005 when she was taken to hospital for crashing into a car that then collided with another vehicle. In 2007, she was arrested for her first DUI, and one month later she collided with a parked van. The following month Lohan was handed her second DUI. After a break from her behind-the-wheel troubles, in June 2012 she crashed her Porsche into an 18-wheeler and lied to police about who was driving at the time of the accident. Most recently, in September, she was arrested in New York after an alleged hit-and-run, and now she's (thankfully) off the roads and in court-mandated rehab.
Los Angeles drivers are likely also grateful that Amanda Bynes recently relocated to New York. Her wheel woes started in March 2012 when she was pulled over for driving while talking on her cell phone. The next month she was charged with drunk driving. On later occasions, she was charged with two hit-and-runs and was stopped by police for side-swiping another vehicle. Her license was suspended by the DMV, and the starlet's car was recently impounded after she was caught driving on a suspended license.
Brian White, a teacher at the L.A. All-Star Driving School, said that stars typically struggle with driving because they are constantly being chased down the street by paparazzi.
"When a regular person gets a ticket and it costs them $500 or $600, it is not the same as a celebrity who is making a lot of money. [For] someone who is working a regular job – a ticket hurts," he said.

But the fear of being ticketed doesn't seem to deter stars or paparazzi, White explained. And despite the paparazzi who tail the stars, experts don't think celebrities need special training to maneuver the roads.
"Their best bet would be to discourage paparazzi and vehicles by either legislation or enforcement of laws already in the books," White said. "To send them somewhere or teach them something more would invite more trouble than we already have."
However, as we've seen in the cases of Lohan, Bynes and Bieber, driving-related incidents aren't one-time occurrences.
"They are repeats because once a person gets away with one thing, they often try to push the envelope with another. Plus many love the attention," Feldman said. "They should have drivers… but Lindsay had that on her Lifetime contract and she still drove, all while being on probation. It's the thrills and entitlement."
Still, hitting the brakes on bad driving behavior is very possible – even for a big star.
Just look at stars like Britney Spears, Nicole Richie and Paris Hilton, who were all deemed Hollywood's worst drivers several years ago but have since managed to leave their driving problems in the review mirror.
"Britney is on proper meds now and stable. Nicole has grown up, had children and is much more grounded," added a key Hollywood insider. "Paris often takes drivers and she knows very well she doesn't want to go back to jail."
Danielle Jones-Wesley contributed to this report