Helen Mirren's Sexy Action Scenes Get Co-Stars Bruce Willis' and John Malkovich's Pulses Racing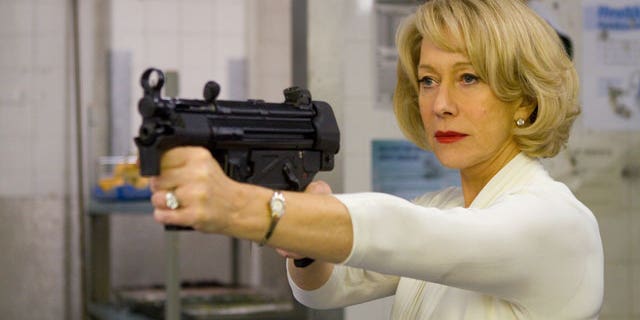 At 65, actress Helen Mirren's action scenes are so hot, her co-stars could hardly contain themselves when discussing her sexy style.
She's so hot, co-star Bruce Willis even threatened to drop out of the new action comedy "RED" (Retired and Extremely Dangerous) if a scene with Mirren shooting a gun in an evening gown was taken out.
"I said if that scene is not in the film I want them to take every shot of me out of the movie. But it's in. It's so . . . it's just sexy," Willis told Pop Tarts while promoting the film, in which he headlines a group of retired CIA agents, including John Malkovich and Morgan Freeman. "Who knew? I think Helen would've been doing action films a while ago – with that .50 Caliber machine gun in a ball gown. Wow!"
John Malkovich agreed he can now die a happy man thanks to the British Oscar-winner's hotness.
"What more could you want than Helen Mirren with a fire arm? One can pass over to the other side and be happy," he said.
And despite being 27 years Mirren's junior, co-star Karl Urban still hadn't picked his jaw up from the floor.
"Oh my God. It was the sexiest thing I have seen in a long time," he responded when we asked about the scene. "Helen Mirren on a 50-caliber machine gun, full rock-and-roll. I would pay to see that."
Click here to read Fox411.com's Marshall Fine's review of "RED"
But for Mirren, the filming experience seems to have brought about a new-found form of relaxation.
"I've always been rather fascinated by target shooting and I've always thought, 'I wonder if I would be any good with a real gun?' There's something very Zen about shooting, target shooting, because you've got to be incredibly concentrated and at the same time utterly relaxed, and that's quite a difficult combination to achieve," she told us. "So I've always been quite fascinated and thought that maybe I'd kind of take it up. But only target, I mean literally target practice."
And while Willis, 55, has done countless action scenes and saved the world from the depths of destruction onscreen time and time again in his long acting career, he's finally starting to feel the effects.
"I'm old. I just didn't bounce as high as I used to off the pavement," he said. "Karl kicked my ass. We had to stop for a good 4-5 seconds one time, because I got a little scratch on my forehead."
Still, that doesn't mean it stopped him from giving it his all.
"If you look at fights even from 5 years ago and how people fought in films and how they fight now, if you look at 'Expendables' and the fight scene in 'RED', there are hardcore films, there are hardcore fights in those films. There was always someone coming around and saying 'You don't have to fight that hard' and we insisted on making it a tougher fight and bringing in elements of mixed martial arts."
And Malkovich concurred.
"They are rough now. Sometimes that one scene, just that one section, a few minutes of screen time – can take weeks and weeks, maybe more, to film," he said. "This time, they took a beating."