Golden Globe Awards: 'Gravity' Filmmaker Alfonso Cuaron Wins Directing Award, 'American Hustle' Wins Big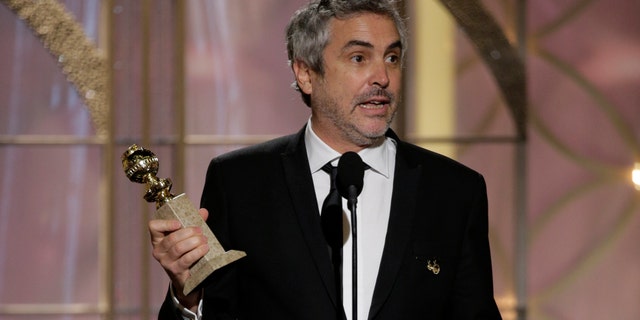 It was a huge night for Mexican filmmaker Alfonso Cuarón, who won for best director at Sunday's 71st annual Golden Globe Awards, and he could not stop himself from poking fun at his heavy accent.
"This is for the hundreds of people that made this film possible," the "Gravity" co-writer said accepting his first Golden Globe. "Because of my thick accent, they ended up doing what they thought I said, not what I really said."
Cuarón also shared a funny story about the movie's front-woman Sandra Bullock during filming.
"I'm sure some of the members of the Hollywood Foreign Press will sympathize with this," he began. "Sandra, you are the most amazing collaborator. I want to thank you for not quitting when you thought that I have told you, 'Sandra, I'm going to give you herpes,' when I really meant to say, 'Sandra, I'm going to give you an earpiece."
The filmmaker also thanked George Clooney for his "generosity and your commitment," his son and "Gravity" co-writer Jonas Cuarón for his "inspiration," executive producer David Heyman, Warner Bros., and his agent Steve Rabineu, before ending his speech by thanking his mother.
"And above all, muchas gracias a mi mama," Cuarón said.
The boozy banter made by the Mexican filmmaker added to the great quips made by Hollywood's A-list stars in Tinkle Town's bawdiest awards show – a "a wonderful mess," said co-host Tina Fey of this year's bash.
The 1970s corruption tale "American Hustle" got a very serious push toward glory, picking up three major awards, including best comedy, best actress (Amy Adams) and best supporting actress (Jennifer Lawrence).
Not that early-season favorite "12 Years a Slave" isn't still in the running. Though it earned only one award, Steve McQueen's historical epic took home the night's top honor: best film drama. But "American Hustle" seems to have emerged from the 71st annual Golden Globes as the film to beat.
That being said, the Globes have flipped awards season momentum before. Though Ben Affleck was denied an Oscar nomination last year for directing "Argo," he did win best director at the Globes and his film went on to win best picture at the Academy Awards. In 2009 Katherine Bigelow's "The Hurt Locker" lost in the best film category to James Cameron's "Avatar" at the Globes. The defeat seemed to sway Oscar voters in Bigelow's favor and she snagged the best picture award.
With the Oscar nominations coming Thursday, lost-in-space saga "Gravity," could pick up some additional pull with likely nominations in the craft categories, which the Globes don't recognize. There's also a lot of built-in affection for its leading lady, Bullock, not to mention the film's impressive worldwide box office performance.
Hosting Sunday night's Globes for the second year in a row, Fey and Amy Poehler drew big laughs as they targeted such A-listers as Matt Damon, Meryl Streep and Leonardo DiCaprio.
One of the evening's well-received jokes was delivered in the "SNL" alums' opening bit in a reference Fey made to "Gravity": "It's a story of how George Clooney would rather float away into space and die than spend one more minute with a woman his own age."
Besides "American Hustle" and "12 Year's a Slave," the Hollywood Foreign Press Association, which presents the Globes, also favored other fact-based films from America's past: the '80s-era AIDS drama "Dallas Buyers Club" and the high-finance extravaganza "The Wolf of Wall Street," which both won top awards.
"Dallas Buyers Club" stars Matthew McConaughey and Jared Leto, who both lost noticeable weight for their roles — "or as actresses call it, 'being in a movie,'" joked Fey — won their first Globes for best dramatic actor and best supporting actor. DiCaprio, a nine-time nominee, picked up his second Globe for best comedy actor for his turn as a provocative stock broker in Martin Scorsese's nearly three-hour "Wall Street."
"I am thankful that Martin Scorsese is still this punk rock," said DiCaprio backstage.
Famously absent from awards shows for years, Woody Allen received the Cecil B. DeMille lifetime achievement honor, which was accepted by the director's "Anne Hall" star Diane Keaton.
"Did you see Diane Keaton tonight?" best comedy actress winner Cate Blanchett asked reporters backstage. "She is my style icon, my acting icon — the works." Blanchett took home the award for her portrayal of a fallen socialite in Allen's "Blue Jasmine."
Elegant in an Armani gown, Blanchett joked, "A lot of effort goes into this effortlessness. It's a wonderful mirage to be here tonight, but it's not entirely who I am."
The Associated Press contributed to this report.
Follow us on twitter.com/foxnewslatino
Like us at facebook.com/foxnewslatino