George Clooney: Angry American dream flick inspired by Trump campaign
Actor and director George Clooney says his latest film "Suburbicon" is a movie for an "angry" America, inspired by Donald Trump's presidential campaign.
The Oscar winner, who was in Venice, Italy, for the Venice Film Festival on Saturday, said his latest directorial effort is an angry movie for an angry country – his own.
"A lot of us are angry — angry at ourselves, angry at the way that the country is going, angry at the way the world is going," he told reporters Saturday in Venice, where "Suburbicon" is competing for the festival's Golden Lion prize.
MARK RUFFALO CALLS FOR TRUMP TO BE REMOVED FROM OFFICE AS HE MARCHES AGAINST WHITE SUPREMACY
"It's probably the angriest I have ever seen the country, and I lived through the Watergate period of time," Clooney added. "There is a dark cloud hanging over our country right now."
Clooney said the movie is a comedy that started to get more and more furious as shooting went on.
"We wanted it to be funny, we wanted it to be mean," he said. "But it is certainly angry, and it got angrier as we were shooting."
The film, which stars Matt Damon and Julianne Moore, revolves around a couple who live in a seemingly idyllic – and all-white – 1950s suburban community that erupts in anger when a black family moves in.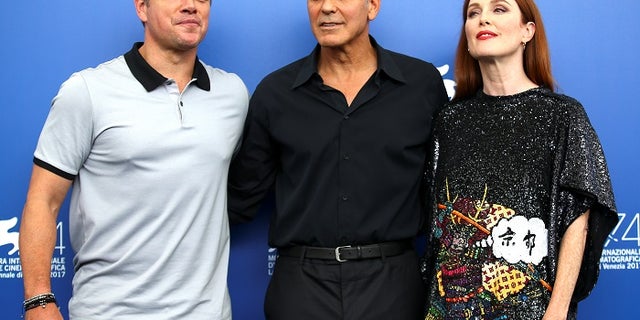 It fused a script by the Coen brothers with a narrative about racial divisions inspired — in a negative way — by Trump's presidential campaign.
"The genesis of the screenplay [came when] I was watching a lot of [Trump] speeches on the campaign trail about building fences and scapegoating minorities, and I started looking around at other times in our history when we've unfortunately fallen back into these things, and I found this story that happened in Levittown, Pennsylvania," Clooney said.
'EYES WIDE SHUT' ACTRESS: I CAME OUT AS A CONSERVATIVE IN HOLLYWOOD. HERE'S WHAT HAPPENED
Clooney was an avid supporter of Democratic presidential candidate Hillary Clinton in the 2016 election. Clooney and his wife, human rights lawyer Amal Clooney, hosted a fundraiser for Clinton in San Francisco and Los Angeles in April 2016, according to The Guardian.
A pair of tickets for the event were sold from $33,400 to $353,400. Clooney admitted the money he raised for Clinton was "obscene" after some 200 supporters for Clinton's opponent, Sen. Bernie Sanders, showed up to the event to protest it.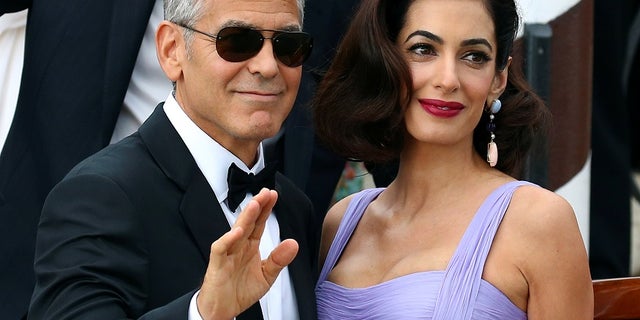 "Yes," Clooney told Chuck Todd on NBC's Meet the Press, "I think it's an obscene amount of money. "I think, you know, that we had some protesters last night when we pulled up in San Francisco and they're right to protest. They're absolutely right. It is an obscene amount of money."
"The Sanders campaign when they talk about it is absolutely right. It's ridiculous that we should have this kind of money in politics. I agree, completely."
Clooney based a lot of "Suburbicon" on the true story of William and Daisy Myers, a black couple who moved to Levittown, Pa., in 1957 and were taunted by the town's residents, according to the Daily Beast. The couple had rocks thrown at their windows and received threats over the phone.
"When you talk about 'Making America Great Again,' America being great everyone assumed was the Eisenhower '50s, and it was great if you were a white, straight male, but other than that it probably wasn't so great," Clooney said.
"It's fun to lift up that curtain and look underneath that thin veneer and see some of the real problems that this country has yet to completely come to terms with."
Clooney was asked if he was considering running for president in the future.
"Would I like to be the next president? Oh, that sounds like fun. Can I just say that I'd like anybody to be the next president of the United States? Right away, please," Clooney joked.
The Associated Press contributed to this report.