Frank and his daughter battle over police corruption on 'Blue Bloods'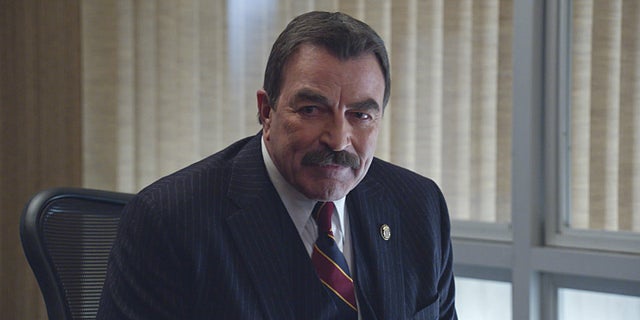 TV Recap: Frank And His Daughter Battle Over Police Corruption In "Blue Bloods"
[Spoiler alert! The following contains spoilers from "Blue Bloods"]
A blistering father/daughter feud rocks Friday's episode of "Blue Bloods."
NYCPD Commissioner Frank Reagan (Tom Selleck) goes ballistic on his Assistant District Attorney daughter Erin (Bridget Moynahan) after her job requires her to fight police corruption.
Erin, who isn't happy to be celebrating her 40th birthday, becomes even more depressed when she finds herself caught between career and family.
Click here to subscribe to FOX411's YouTube channel
The District Attorney's office is going after officers who have fixed traffic tickets, and even Frank's policeman son Jamie Reagan's (Will Estes) partner Eddie Janko (Vanessa Ray) is fingered in the scandal.
Soon, the D.A. asks Erin to be the face of the prosecution against the NYPD as a test of her loyalty. Erin complies although, coming from the famous Reagan law enforcement family, it's the last thing she wants.
When Erin addresses reporters, she denies the ticket fixing police scandal is frivolous, angering her police commissioner dad.
Frank tells his aide Garrett Moore (Gregory Jbara) he assumes she's just following orders, and doesn't want anyone to think he's compromising the investigation because Erin is his daughter.
Later, Eddie admits to Jamie she has been moving an elderly neighbor's car for her and was late a couple of times, resulting in the vehicle being ticketed. Because the woman couldn't afford the $90 tickets, Eddie made them disappear. Jamie shrugs that he would have done the same thing.
Seeing a way of paying back the D.A., Jamie suggests they pull over his nephew, a judge, for rolling through a stop sign. When the judge recognizes him as a Reagan, Jamie implies that he was ticketed because he's the D.A.'s relative.
This causes problems for Erin when an investigator tells her Eddie and Jamie's traffic stop is seen as retaliation.
Soon, Frank is yelling at Erin in his office, not understanding how she got "roped into this" case against the cops.
But Erin asks him to "listen to me for once" and emphasizes while she respects the NYPD, misdeeds must be prosecuted.
Words get heated as Erin says, "I'm not going to take a lesson from you!"
Frank sighs, "I hear contempt in your voice."
After Erin says he just wants it his way, he gives her a birthday hug and kiss but forgets to give her his gift before she storms off.
Then Frank busts into a police union meeting in which cops are encouraged to drag their heels about testifying for the D.A. in court cases.
Frank says he's angry as well -- but warns against a "blue flu."
The Commissioner asks Eddie if the ticket matter would have benefited her and she says no, it was just a favor for an old lady who couldn't afford the tickets.
Another officer claims he wouldn't have profited, either, but Frank stresses to the group that "appearances matter." Frank recalls when he was an officer, he used to get free meals and bottles of booze but the bosses put an end to perks.
He declares he'll try to work with the D.A., but the officers cannot violate policy and squash tickets.
At the Reagan Sunday family dinner, there's more conflict as Erin blows out the candles on her birthday cake.
Erin says that cops think they're above the law in pulling tickets, but Frank, Jamie, and detective Danny Reagan (Donnie Wahlberg) disagree.
Frank remembers her 17th birthday and how she and her friends got stopped for speeding -- and a boy had a beer open in the car. Frank triumphantly recalls how Erin's mother "had the officer call me and I got the summons squashed.
"That's what we call the good old days," Frank smiles at the table.
Later, Frank tells Erin he needs a compromise from the D.A.'s office on the officers' punishments.
Frank says that because Erin had called out the cops, she had made a choice that affected "the family business."
He reminds Erin that family always comes first and she agrees to work with him to resolve the matter.
Also on the episode, Danny and partner Maria Baez (Marisa Ramirez) solve a case involving a car stolen from a man (played by guest star Anthony Edwards) who says it was the famous 1968 Ford Mustang Steve McQueen drove in the movie "Bullitt."
In the end, he's arrested for insurance fraud as the car was never stolen and he's caught trying to sell it.
To his chagrin, the car even turns out to be a different Ford Mustang—and the real "Bullitt" car is still held by his mother.
At the end of the episode, all the Reagan men--Frank, Jamie, Danny, and grandpa Henry--go to see the genuine "Bullitt" car in a storage area, where they excitedly get their picture taken.
"Blue Bloods" airs Friday on CBS.