Floyd Mayweather calls Trump 'real man' for Access Hollywood tape comments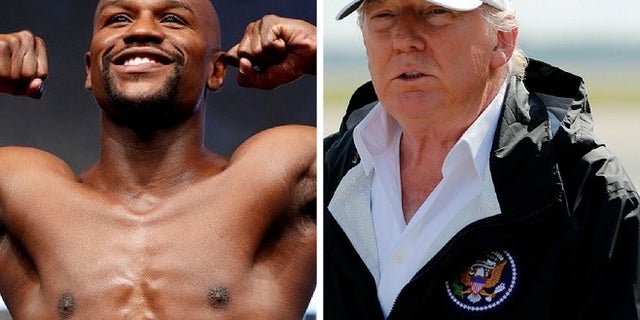 Floyd Mayweather defended President Trump's infamous comments about women from a leaked 2005 "Access Hollywood" tape.
Mayweather told Hollywood Unlocked in an interview that Trump spoke "like a real man" when he was heard telling former "Access Hollywood" host Billy Bush that when it came to women he could "grab them by the p---y." The tape was leaked during Trump's 2016 presidential campaign.
SHOWTIME SUED OVER ALLEGED MAYWEATHER-MCGREGOR LIVE STREAM ISSUES
"People don't like the truth," Mayweather said. "He [spoke] like a real man spoke."
"Real men speak like, 'Man, she had a fat a--. You see her a--? I had to squeeze her a--. I had to grab that fat a--.' Right? So he talking locker room talk."
"'I'm the man,' you know what I'm saying? You know who I am. Yeah, I grabbed her by the p---y. And?" Mayweather said.
The "Access Hollywood" tape sparked criticism from a number of politicians including Hillary Clinton, who tweeted after it was leaked: "This is horrific. We cannot allow this man to become president."
Bush resigned from his job on the "Today" show in October following the tape's release.
MAYWEATHER VS MCGREGOR FIGHT PUTS PIRATED LIVESTREAMS IN THE SPOTLIGHT
Mayweather and Trump have been photographed together in the past. Trump attended Mayweather's fight against many Pacquiao in 2015 and the boxer went to the president's inauguration in January, the New York Post reported.
The boxer has faced domestic violence charges in the past.