Feud? What feud? 'Idol' producer says Nicki Minaj and Mariah Carey two peas in a peace pod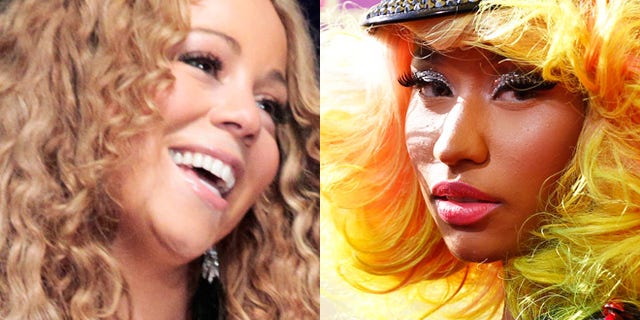 There hasn't been a diva-off at the "American Idol" judges table this season... yet.
At the Season 9 finale of "So You Think You Can Dance" on Tuesday night, judge Nigel Lythgoe denied rumors of a feud between newly announced "Idol" judges Mariah Carey and Nicki Minaj.
"Why would there be?" the "Idol" producer told TVGuide.com. "It's not about them. They know that. It's about the kids that come out there. It really has already become very constructive to the point of we'll say, 'Oh for Christ's sake, shut up. Let's move on.' If they're saying 'no,' they've got to tell them for half an hour why they're saying 'no' and how they can improve and come back."
Nicki Minaj and Keith Urban join Mariah Carey and Randy Jackson on "American Idol"
In fact, Lythgoe pointed out that rapper Minaj has respect for Carey's skill.
"We're calling it, 'Mariah and Nicki have collided," but collided in a good way, in a creative way," he said. "Nicki is very deferential to Mariah in the sense that [she'll tell auditioners], 'You do realize you're auditioning in front of this incredible singer here. Why would you choose her song to sing?'"
But it's a lovefest for all, or most, of the panel.
"The kids that come in are either super-fans of Nicki and go, "Ooh wow, Nicki, I love you!' We've had a couple people sing 'Super Bass,'" he said. "Or they're fans of Mariah and they've been to Camp Mariah. Then there's the Keith Urban fans. So Randy [Jackson]'s sort of left [out], looking around."
Mariah Carey addresses "Idol" feud rumors
All joking aside, Lythgoe is optimistic about this judging panel compared to those of "Idols" past.
"It was certainly the best first day of auditions I've ever had," he said. "That includes Randy, Paula [Abdul] and Simon [Cowell], and then Jennifer [Lopez], Steven [Tyler] and Randy. The panel in general are smart, they're witty, they're really constructive, they already have put benchmarks for themselves."
Jackson, Carey, Minaj and Urban were confirmed as the new four-person judges panel on Sunday. "Idol" premieres Season 12 in January 2013.