Female directors dominating the summer box office?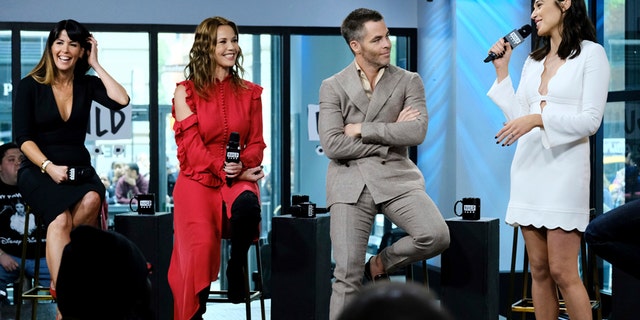 NEWYou can now listen to Fox News articles!
In Hollywood, this is the summer of successful women.
"It has most definitely been a high-profile summer for female helmers," says Lindsay Miller, news and culture director of Popsugar. "Not only did Patty Jenkins' 'Wonder Woman' have the highest opening weekend of any movie by a female director in history, it has already outgrossed so many recent male superhero movies. 'Ant-Man,' 'Thor' and 'X-Men Origins: Wolverine' are just a few examples."
Jenkins set records when "Wonder Woman" earned $38.9 million on its first day in theaters and $103.1 million on its first weekend. So far, the movie has grossed over $300 million worldwide, and Warner Bros. is expected to begin negotiations with the director on a sequel.
Previously, the biggest payday for a movie directed by a woman was Sam Taylor-Johnson's "Fifty Shades of Grey," which took in $30.3 million on its first day in theaters, enjoyed a four-day Valentine's Day/President's Day weekend gross of $93 million and made $571 million worldwide, a record that "Wonder Woman" will almost certainly shatter. Taylor-Johnson reportedly took home $2 million — .4 percent of the worldwide gross — for directing the film.
Jenkins' salary for "Wonder Woman" has yet to be reported, but according to The Hollywood Reporter, Warner Bros. is in the process of trying to lock her in for a sequel.
And Jenkins isn't the only woman who's getting attention for her performance behind the camera these days.
When "Rough Night" debuted in theaters last weekend, its director, Lucia Aniello, became the first woman to direct an R-rated comedy for a major studio in two decades, Miller said. What's more, it brought in $8.1 million, an impressive number given its rating.
And in May, Miller noted, "Sofia Coppola became the second woman ever to win best director at Cannes." Coppola's film, "The Beguiled," starring Nicole Kidman and Colin Farrell, is in limited release and will be in theaters nationwide on June 30.
Two more movies directed by women are also front and center this summer. Gabriela Cowperthwaite's "Megan Leavey" and Eleanor Coppola's "Paris Can Wait" are already making splashes at the box office, grossing $8.3 and $3.1 million respectively in the domestic market.
Female directors have made their mark in the past, but never like now, said Paul Dergarabedian, senior media analyst for ComScore.
"Boasting an impressive depth and breadth of content from all genres, from drama to action, romance to comedy, the story of their importance to Hollywood's bottom line and creative output has been largely marginalized until the success of 'Wonder Woman' brought this issue to the forefront," he said.
"If anything, 'Wonder Woman' was the catalyst to spark this newly renewed conversation, and that may ultimately prove to be its biggest and most lasting achievement."
But despite their recent success, female directors still have to battle sexism and other barriers in Hollywood.
"Let's also not forget the not-so-subtle sexism Jenkins faced during the production of 'Wonder Woman' in the form of patronizing rumors and reports that the movie was a mess," Miller said.
"Clearly, those falsehoods were put to rest when the movie came out to overwhelming critical praise and a flood of ticket sales. So while these recent successes may not be reflective of the overall status of female directors in Hollywood, I think they will help turn the tide.
"They should be proof that women more than deserve a seat at the table — and behind the camera."