EXCLUSIVE: 'Baseball Wives' star Anna Benson says husband filed for divorce; kids registered as 'homeless' for school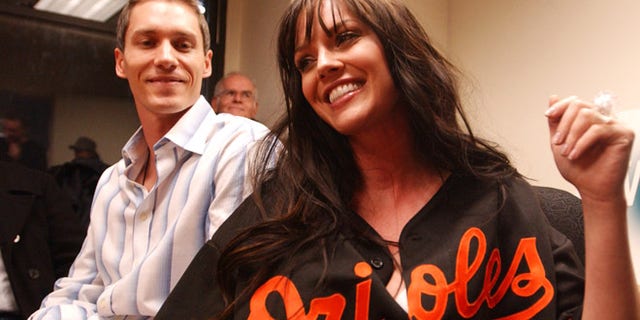 The woman who said she would sleep with the entire New York Mets baseball team if her husband, then-Mets pitcher Kris Benson, ever cheated on her, now says cheating is exactly what he ended up doing.
Anna Benson, star of VH1's "Baseball Wives" and mother to Kris Benson's three children, was served with divorce papers in March after she said she discovered evidence he was having an affair.
"I'm very sad about this," Benson told FOX411 exclusively. "Kris was my whole life. And he left me for someone else and he just abandoned us. I'm scared and I just don't know what I'm going to do or how I'm going to take care of these kids."
Kris Benson told FOX411 in an email: "As much as I'd love to comment about these accusations, I think it's best for myself and my children that I let things be handled legally, not through the media."
[pullquote]
Anna claims that when she was recovering from foot surgery early this year, her husband became involved in an affair with one of her best friends.
"This is the second time he's done this to me," fumed Benson about her husband, who now works at New York-based Monarch Wealth & Business Management. "I introduced her to Kris because she's going through a divorce and I wanted to help her by getting someone trustworthy – who I thought would be Kris – to manage her money."
According to Benson, her husband managed more than her friend's money.
HOT SHOTS: JLo's Bikini Break.
"The two of them instantly started having an affair," said Benson. "It started with sexy text messages and that kind of stuff. [My friend and I] were very close. Her mother was my nanny during 'Baseball Wives' – that's how close we were."
Benson said she discovered evidence of her husband's alleged affair through a popular social media site.
"She and Kris are both denying the affair, saying it was just 'inappropriate talk,'" said Benson. "But I picked up his iPad and and I hit the Facebook button and looked at his inbox messages, and there were all of these sexy messages between them. And you just don't talk with somebody like that that you're not having sex with."
Now separated, Benson claims that her husband forced her to sell the family's 8,000 sq. ft. home in Cumming, Georgia, and that she and her children must vacate the property by August 6.
"Kris told me that he would help me get into another home," said Benson. "But he tricked me. I would have never sold my house without him telling me that he was going to help me get into another house."
Benson says that she asked her husband to buy a home in the $300,000 to $400,000 range – less than half of what she says is the selling price of their former home. Instead, Benson claims, her husband suggested that she and their children move into less posh accommodations.
"Kris said that we should move into a $56,000 house that he bought as a flip in the ghetto," declares Benson. "His attorneys have told my attorneys that I can just move in with my mother. But this is not about me. I'll sleep on the floor in the dirt – I don't care. This is about my children having a roof over their heads. I have no income. I'm disabled. I have no way to earn a living. What the hell does he expect? It's not my mom's responsibility to take care of his kids."
Kris Benson reportedly earned over $38 million during his eleven-year career as a starting pitcher with Major League Baseball.
Now, his wife Anna – who signed a prenuptial agreement – claims that she receives $4,000 a month in child support, and has registered her children as "homeless" for the fall semester at their local school.
"I don't have any documentation to provide to the school in the form of a lease, or a home, or an address, or a utility bill," claimed Benson. "For me to be able to get them in the school district that is appropriate, I have to register them as being homeless. I can't give my mom's information, or they can't go to that school."
A Georgia-based attorney tells FOX411 that if someone signs a prenuptial contract, they're unlikely to receive more financial support without a long, drawn-out legal battle.
"If there's a prenup that says that she doesn't get any property, then she wouldn't get anything, except for what she put in her name," Mary A. Stearns-Montgomery, founding partner of Atlanta's Stearns-Montgomery & Proctor explained. "There are plenty of millionaires who only pay $4,000 a month in support."
For his part, Kris Benson added, "No one wins a 'he said, she said' contest. I've built my reputation for years, being fair and reasonable, and the people that know me and the situation will never waver no matter what is said – true or false," he said. "As to specifics though, I'll refrain from making any comments and take the high road."
Kris Benson's attorney did not respond to multiple requests for comment.
But Anna Benson insisted that all she wants is a home for her children.
"My heart is broken, because I really loved him," said Benson. "But now, I just want to be a mother. I don't need some mansion – I don't need any of that. I just want a place for my kids."