Ex-RBD Alfonso "Poncho" Herrera to Star in 'El Diez'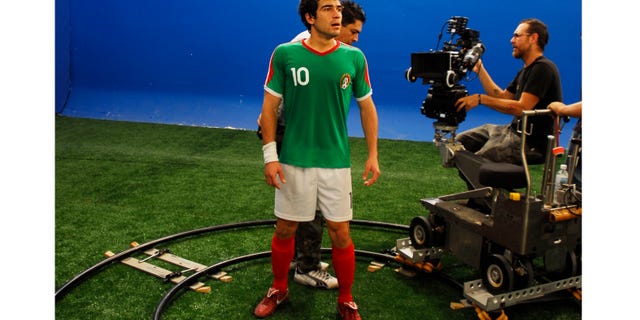 Soccer and telenovelas are clearly two things Latinos love – and 'El Diez' combines perfectly both passions in the first drama series ever aired by ESPN Deportes.
This "sports-novela" shows the TV audience the ups and downs of a Mexican soccer star and the unknown stories of the soccer world after the 90 minutes of the game.
The story of mega soccer star Chava Espinoza, played by Alfonso "Poncho" Herrera – a member of the former Mexican pop group, RBD – is not about how a player makes his way to stardom, but delves into what happens next.
"I played soccer since I was a little kid. I love soccer, and having to play this role is awesome. It's a very realistic script and I truly believe nobody else has ever showed what's behind the soccer industry the way 'El Diez' does," Poncho Herrera said in a recent interview in Hollywood, California.
"In the story, Chava plays for a fictitious Mexican soccer team called Los Lobos del Atlético Nacional, but other than that all the stories showed in the episodes are completely real," said Mauricio Quintana, the creator and producer of the series. "They show what happens inside the locker rooms and outside the field with the people that manage this incredibly profitable industry."
Quintana will appear in the show, too, in the role of Gonzalo Gómez Riva, Chava Espinoza's manager.
In the series, Chava Espinoza is an admired and beloved soccer star as much in the mold of Mexican players Javier "Chicharito" Hernández or Cuahutémoc Blanco. He has achieved it all, and his fight is only to keep himself on the top.
The only thing missing in his life is wearing the No. 10 for the soccer national team, a number reserved for soccer legends like Diego Maradona or Pelé and one that all players dream of donning.
As any other good drama series, love and friendship are a crucial part of the storyline. Erendira Ibarra brings to life to Ximena Calleja (from Las Aparicio on mun2), a sports reporter who falls in love with Chava Espinoza.
"In the show we cannot ignore the reality of soccer world in Mexico, so we had to bring issues such as corruption, negotiations under the table and the pressure that a soccer star has to put up with, aside from the sports side," Ibarra noted.
"We show the audience all they want to see from the perspective of Latinos passion for soccer. There have been other movies that show the life of a soccer player in the British league or the league from Spain," Herrera said. "But 'El Diez' is completely made to give our audience what they want to see: Las Chivas, América teams and much more related to our Latino culture."
"This project was thought and made by a group of Latinos having the Latino audience in mind, but with the same quality of an original American series. We all feel so proud of bringing a production that Latinos in the United States deserve to reflect our values, culture, and of course their passion for soccer," Quintana said.
The script is based on real life experiences from former players, soccer team executives and sports journalists from Mexico, Spain and Argentina.
'El Diez' was filmed in HD cinematography format and shot in Mexico City in Spanish-language, but will be transmitted with English subtitles on Sundays at 9 p.m. ET on ESPN Deportes. The second season is already on its way and the producers said that they hope the series to continue to air until the 2014 World Cup in Brazil.
Esmeralda Fabian is a freelance reporter for Fox News Latino.
Follow us on twitter.com/foxnewslatino
Like us at facebook.com/foxnewslatino