Eva Longoria & George Lopez to Co-Host 2011 ALMA Awards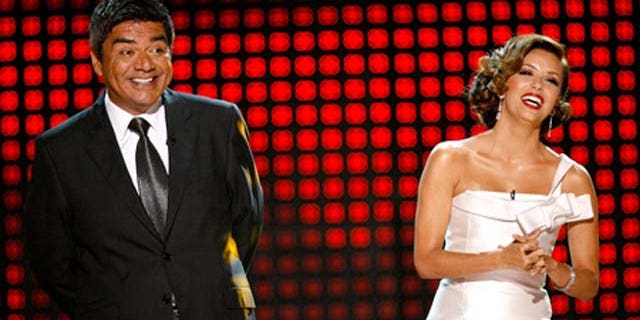 Eva Longoria and George Lopez are joining forces again with the National Council of La Raza (NCLR), the nation's oldest Latino civil rights organization.
The two celebs will again be hosting NCLR's ALMA Awards, which celebrate the triumphs of Latinos in entertainment, including film, TV and the music industry. The ceremony will take place on September 16, and will air on NBC.
"We got a lot of comments from people about how excited they were to see George and Eva co-hosting," said Delia Delavara, who's a producer for the ALMA Awards and the vice president of the NCLR California region.
"Both George and Eva have commented to our CEO just how important this show is to them," she said, "to Latinos in the entertainment industry to have a place to celebrate and come together. It serves as a point, a place where they feel the pride that their community has for them being in these public spaces."
Longoria will not only be hosting, she's also producing the show. Delavara said the actress's involvement is beyond routine.
"She [Longoria] is not just producer as a name," Delavara said. "She rolls up her sleeves, makes calls, works from all aspects of it, what the look of the stage is, what the messaging is."
"She reached out to friends to engage them in the program and get ideas for how we can make it more entertaining. She's involved with everything and works collaboratively with the production team and with NCLR."
As for Lopez, Delvara recalls when the comedian was a recipient of an ALMA award a few years back, and said "you know I want to be a bigger part of this."
"He is the biggest Latino name in comedy," Delavara said. "We want to keep the show energetic, entertaining, funny."
"They are proud of their culture and they care about their community," she added. "That comes across very clearly."
NCLR will be announcing the ALMA awards nominees later this month, following the NCLR annual conference in Washington D.C. on July 23-26. Longoria will be the keynote speaker on July 24 at the conference, where she will be promoting the Alma awards ceremony.
Delavara believes it is crucial that the awards are aired in primetime television. This she says will help reach many non-Latinos as well.
"This is an important show for our community and it important that we recognize that the images of Latinos in TV and in film help people determine how they consider us as a community in the United States," Delavara said.
Like other award programs, this year NCLR will be more open to the input of fans, who will get the opportunity to participate in the nomination process.
You can reach Alexandra Gratereaux at: Alexandra.Gratereaux@foxnewslatino.com or via Twitter: @GalexLatino
Follow us on twitter.com/foxnewslatino
Like us at facebook.com/foxnewslatino