Emma Stone: Oscars best picture mix up was 'jarring'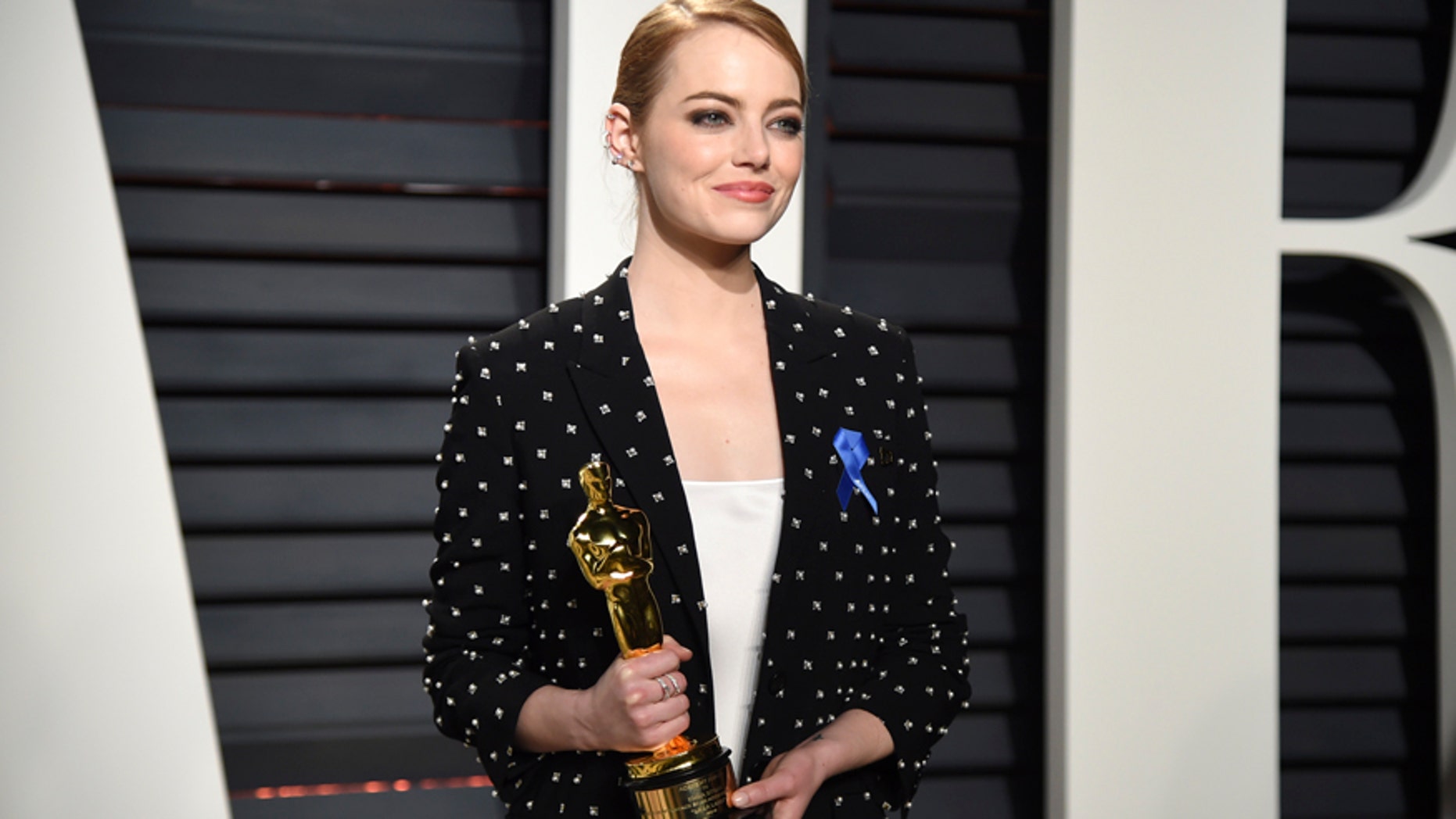 LOS ANGELES – Emma Stone didn't hold back with reporters backstage after a shocking Oscars ceremony that saw "La La Land" win best picture only to have "Moonlight" be announced as the true winner.
Following the telecast, Stone entered a stunned press room and was asked how she felt about "Moonlight" winning best picture.

"I f---ing love 'Moonlight!' God, I love 'Moonlight' so much! I'm so excited for 'Moonlight,'" she said. "It was an amazing thing to hear 'La La Land' [named best picture] and of course we wanted to win. But we're all so excited for 'Moonlight.' I think it's one of the best films of all time, so I was pretty beside myself."
FOLLOW US ON FACEBOOK FOR MORE FOX ENTERTAINMENT NEWS
The 28-year-old actress wanted to clear her name from the snafu at the end of the night as there was confusion about whether or not her envelope was just passed on to the best picture presenters.
"I also was holding my best actress in a leading role card [from the envelope] that entire time," she said adding that she also wants to find out why the mistake was made. "I'm not trying to start anything, but I'm not sure what happened, and I really wanted to talk to you guys first."
Meanwhile, Mahershala Ali, who won best supporting actor for his role in "Moonlight," told reporters he feared something was awry when Oscars staff crowded the stage.
STEVE HARVEY REACTS TO OSCARS' BEST PICTURE SNAFU: 'CALL ME WARREN, BABY'
"When I did see security or people coming onstage and their moment was being disrupted in some way I got really worried," he said. "And then when they said Moonlight, you guys have won. It just threw me, more than a bit. I didn't want to go up there and take anything from somebody. It's very hard to feel joy in a moment like that… but I feel very fortunate for all of us to have walked away with the best picture award. It's pretty remarkable."
Stone was in good spirits after the show and joked with the room of reporters, "Is that the craziest Oscar moment of all time?" to which the crowd of journalists shouted "yes" to the actress.
Stone smiled said she was nearly speechless.
"Cool! I guess we made history tonight. I don't even know what to say. I was still on such a buzzy train backstage that I was on another planet already. This felt like another planet. I think it's an incredible outcome but a very strange happening for Oscar history."
NICOLE KIDMAN ROASTED ON SOCIAL MEDIA FOR STRANGE CLAPPING AT OSCARS
Stone, however, had a hard time focusing on anything besides the "La La Land" cast having to give away their best picture trophy.
"We had a jarring moment. It feels like real life," she said. "But everything feels like real life.
Of her best actress win she said, "This is an incredible honor, game-changing, but it's still me. Nothing changes when I go back home."